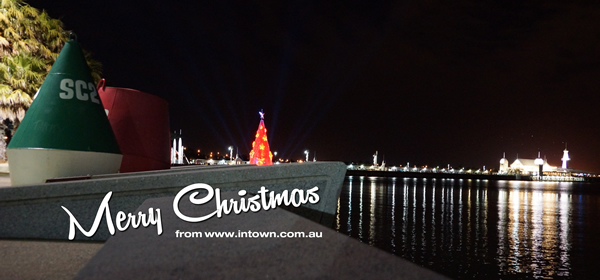 Geelong has once again looking spectacular for Christmas with beautiful decorations and of course our magnificent floating Christmas Tree really helping the city get into the festive spirit

Hundreds of Harleys and other motorbikes will roar through the streets of Geelong this Sunday the 11th of December as part of the 24th annual Geelong Toy Run.
...Read More

Denis Walter brought some Christmas cheer to Geelong with some of his famous friends at his annual Carols By The Bay.  See our photo spread.
...Read More

Myer department store in central Geelong is once again celebrating the Christmas season with some somewhat large but friendly looking polar bears enjoying Christmas with Santa and a few friends.
...Read More

Thousands of families lined Malop Street to celebrate the 100th anniversary of Gala Day in what was a spectacular event filled with mascots, celebrities colourful floats and plenty of fun.
...Read More


The Epworth Geelong Hospital is about to open in Waurn Ponds next to Deakin University in July and we were lucky enough to have a tour of the incredible $272 million dollar facility that is more like a luxury hotel than a hospital.   See our huge gallery


Intown in conjunction with UBER are giving first time users a free ride up to $20 in the Geelong region. Find out more.


The amazing new Geelong Library and Heritage Centre has opened in Johnstone Park has just celebrated its first birthday and has won praise for its incredible design and facilities.


There are some wonderful places to get the perfect coffee around Geelong. It takes more than delicious rich fresh beans and the skill of great barista, there's a little magic in every cup. We had trouble narrowing it down to just ten that are well worth a try.


Located in one of the historic Federal Mill buildings in Mackay Street, North Geelong, the Geelong Museum of Motoring and Industry features a wonderful collection of vehicles and memorabilia that celebrate the motor vehicle and Geelong's decades of involvement in the manufacturing industry.


The Geelong region has the notoriety of introducing one of the greatest environmental catastrophes onto Australia; the rabbit. The story of the rabbit in Australia is a little more twisted and complex than it first appears.