GPAC 2012 Season Launch
The launch of GPAC's outstanding 2012 Alcoa Theatre season was attended by a full house on Thursday night, and they certainly did it in style. Not only was the show compared by Eddie Perfect, One of the UK's finest actors Miriam Margoyles who you might remember several characters including Infanta and Queen Victoria in the Black Adder series and Professor Sprout in the Harry Potter series was live on stage talking about her 23 characters in Dicken's Women which will open the season.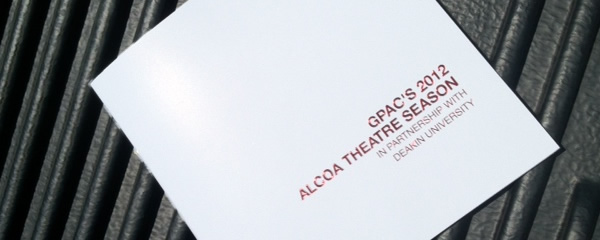 The 2012 season looks brilliant with some incredible shows touring what is regarded as one of the best arts centres outside an Australian capital city.
As we have just mentioned, the first show for the season will be Dicken's Women staring BAFTA award winning actress Miriam Margolyes. This will be followed by Sundowner which is a story through the eyes of three generations exploring memory loss and Alzheimer. This great story features Helen Morse, Gerard Van Dyck and Michelle Heaven and runs from the 19th of April 2012.
Syncopation comes to GPAC from the 17t of May 2012, this show is set in New York in 1913 and has an amazing Jazz soundtrack, and there is dancing strong drama and heart-warming story. The cast includes Emma Palmer and is directed by Stephen Lloyd Helper and has choreography from Dancing with the Stars' Mark Hodge. It promises to be one of the season's highlights.
A production from Red Stitch called Stop. Rewind begins on the 12th of June 2012. This drama comedy explores the lives of seven workers who work for the local government. They all reassess their lives after the death of a colleague. The show is full of poignant consequences and has a great balance between light and dark. The show is by Melissa Bubrinc who's play Beached won the 2010 Patrick White Playwrights Award awarded by the Sydney Theatre Company.
The Flood is a play about an old lady and her two daughters during a flood on an old farm station, one of the daughters arrives suddenly from England after 20 years away and is confronted by a interesting friction. This story is very dark and has some very edge of the seat performances by Shriley Cattunar, Maude Davey and Caroline Lee. The show runs from the 10th of July 2012 at the Geelong Performing Arts Centre.
Biddies is a story about five ordinary women who find themselves back in the school room after years of separation. This show is full of fun, jokes and the outrageous exploring many of the issues which address women. Biddies is from the writers of Codgers which was a huge hit a few years back and it has a cast of Maggie Blinco, Annie Byron, Jeanie Drynan, Donna Lee, Linden Wilkinson and was written by Don Reid. Biddies plays from the 26th of August 2012.
Regarded as one of the finest plays of the last century Death of a Salesman which was written by Arthur Miller opens at GPAC on the 23rd of August. This drama features one of Australia's best loved actors Colin Friels and is directed by Simon Stone.
Bare Witness opens on October 30th 2012 and is a story about a photographer who lands in Sarajevo during the war and follows her through the next twenty years of conflict and changes in news reporting and technology. This play challenges the way you will view humanity through the lens of the media. Bare Witness stars Isaac Drandic, Daniela Farinacci, Adam McConvell,Todd MacDonald and Maria Theodorakis and is presented by the La Mama Theatre fortyfivedownstairs.
The last show of the 2012 season starts on November 6th and is Side By Side By Sondheim presented by ProMo This. This play celebrates one of the most acclaimed composers Broadway has ever known, Stephen Sondheim and celebrates many of his finest moments including West Side Story, Company, A Little Night Music and Gypsy. There is some amazing music including one of Broadway's all time classics 'Send in the Clowns". This show started in London in 1976 and over the nearly 40 years since has become one of Sondheim's most popular shows.