New Years Eve 2011
New Year's Eve is one of the biggest celebrations on the Geelong and region calendar. Thousands flock to locations around the city and our beach resort towns to welcome in the New Year. This Year New Year's falls on a Saturday night, we take a look at some of the big events and fun.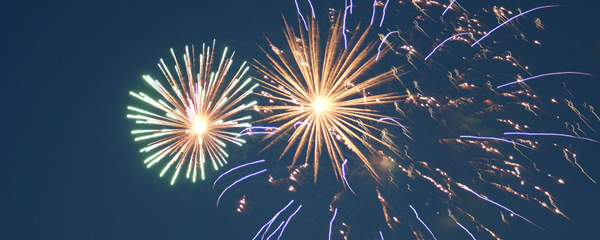 The Pier Festival – Geelong Waterfront.
Thousands are expected to find vantage points around our beautiful waterfront for a New Year's Eve tradition- fireworks at midnight.
The whole stretch of the city's waterfront will come to live with lots of family fun, there will be markets, carnival rides, food, roaming entertainment and even petting zoos and just for those little ones who need to be tucked in bed before midnight there will be a special early fireworks performance at dusk. The fun starts at 6:00 PM New Year's Eve and be on the lookout for Tubby the Robot, he was a huge hit last year.
Cunningham Pier for New Year's
Not only is Geelong Waterfront hosting the Pier Festival, there are some fantastic events happening on Cunningham Pier. City Quarter turns back time to the 1920' and celebrated with what they are calling 1920's NYE Soiree! This exclusive night will entertain 250 people in a night of cocktails, jazz and magnificent canapés overlooking the beautiful bay.
The Pier brings a jungle theme to New Year's Eve with some great music from Passionfruit Pulp and test Pilot Molly. The whole venue will take on an amazing jungle look with rainforests, jungle prints and plenty of party animals.
The Bended Elbow
The Bended Elbow one of the city's premier nightspots will host a Mad Hatter's New Year Eve Bash. The night will feature some great tunes from Captain Grove and DJ Dozza, and there will be some very tasty finger food and fun throughout the evening.
The Falls Festival
The Regions' biggest celebration takes place in Lorne at the Falls Festival. The festival is one of Australia's most loved music festivals and has been sold out for quite a while. This year the incredible line-up includes dozens of local and international bands including the John Butler Trio, The Grates, The Jezebels, Tim Finn and comedian Arj Barker. One of the UK's biggest bands the Artic Monkeys will welcome in the New Year in what promises to be an amazing set.
Portarlington Miniature Railway
The Miniature Railway at Point Richards on the Bellarine Peninsula is also holding a fun family New Year's Eve celebration. The railway will be running from 4PM to 9PM and is sure to be a delight for both young and old.
We would love to hear what you have planned, drop us a feed on Twitter at @IntownGeelong or on Facebook.