2011 Alleyway Arts Festival
A brand new festival to hit Lt Malop St. in 2011 is the Alleyway Arts Festival. A not-for-profit government sponsored event, the festivals aim is to show Geelong's gifted arts culture, to give this town a little shock of arts excitement through live music and artist exhibitions.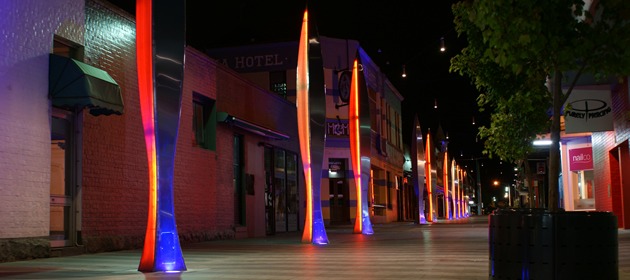 The Alleyway Arts Festival is being organised by Courthouse Arts, a group that is driven to support creative initiatives and the work of young Geelong artists and performers.
Also sponsored by the City of Greater Geelong, Alleyway Arts Festival 2011 is an event by the locals for the locals. the Festivals aim is for exposure of Geelong's Arts culture, including bands such as Hot Club Swing and Sleep Decade, 94.7 The Pulse, DJ's playing between sets. Also part of the festival is artist exhibitions at local galleries Kubu and Oxide. As it is a not-for-profit event, entry is free, making this arts event accessible to one and all.
HOT CLUB SWING
'After 12 years playing together, Hot Club Swing has built a dedicated and diverse following playing their unique brand of gypsy jazz, featuring original compositions, jazz & latin standards, and the ever-popular gypsy showcases.'
LASH78
'Inspired by a wide range of artists and genres, their acoustic shows attract people of all ages, always providing a captivating, fun and energetic atmosphere, with knockout harmonies and a sound that keeps them coming back for more.'
The 2011 event will see the likes of the following bands perform.
SLEEP DECADE
'Made up of brothers Casey and Monty Hartentt, Thom Plant and Tom Milekovic the four piece present a charming blend of folk and experimental pop through delicately executed ambience and mature atmospherics, combining brave song writing, abstract rhythms, erratic guitars and subtle synth undertones into a distinctive and dynamic sound.'
LYNDAL BARRY & THE APOLLOS
'Lyndal Barry and The Apollos play a unique brand of funk and soul that is authentic whilst still being fresh. Since forming in early 2009 they have played from inner city Melbourne to all corners of
regional Victoria.'
SAMBROSE AUTOMOBILE
'Built on the influence of delta blues and southern soul, the sounds of Sambrose Automobile jump, bop and roll. Formed in 2007, this dynamic quartet has rapidly established a reputation as one of the tightest and most exciting rhythm and blues bands in the Geelong area.'
LUCA DELLA NIGHT OWLS
'Luca Della Night Owls are a Geelong born indie band, who are demanded regulars at The National Hotel aka 'The Nash' and have also made appearances at Beav's Bar. This dynamic three piece present a fresh and catchy indie sound that makes your head bop and your heart roll.'
THE VAUDEVILLE SMASH
'Melodies and harmonies, hooks and feet tapping beats – it's song writing steeped in the traditions of the great Yacht Rock masters but with a fresh and thoroughly unique approach. Based in Melbourne, the band released their debut EP to a full house at The East Brunswick Club in March last year.'
THE HIGHWATER BALLROOM BAND
'After moving to Geelong from their hometown of Warrnambool, The four young men who make up the Highwater Ballroom Band have taken to the Geelong and Melbourne music scenes with an amazing grace. Playing their own refined blend of Theatrical and Psychedelic ballads, with influences from a wide range of music, back water blues to modern and sixties experimental rock.'

For further information: please contact: Event Organiser, EVERT AHLERS at email: evert@alleywayartsfestival.com