Apollo Bay Music Festival
Every Autumn since 1992 thousands have flocked to the charming seaside township of Apollo Bay for the annual Apollo Bay Music Festival.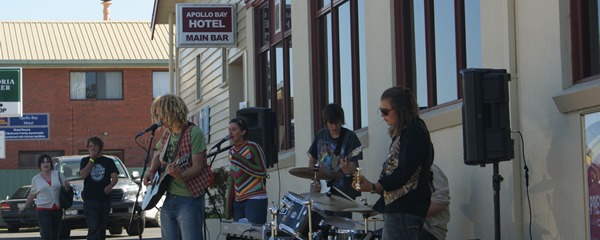 Run by a dedicated volunteer base the festival brings the cream of Australian talent to the township and with it thousands of tourists. Over 4500 tickets to the event get sold every year and it is estimated that a similar number of people just come to Apollo Bay for the atmosphere of the festival and catch some of the great free music happening in the streets and surrounding parklands.
The festival attracts a diverse genre of music with blues, roots, jazz, classical, country and of course pop and rock all playing part in the always talented line-up. Over the years some of the country's biggest names have performed as part of the Apollo Bay Music Festival including You Am I, The Whitlams, Tex Perkins, Jimmy Little, Kasey Chambers and the John Butler Trio. The festival even featured legendary REM member Peter Buck a few years back which proved a huge hit. The festival takes pride in selecting a large array of new and emerging artists in their quality line-up.
The first round of the acts are usually announced just before Christmas and tickets go on sale around this time too, so keep an eye on the festival's website www.apollobaymusicfestival.com for more details as the date becomes closer to get in early and avoid any disappointment.
The festival is held in nearly a dozen venues across the township including two large marquees which are erected in the parkland along the foreshore. The local pubs, cafes, restaurants and halls are also used as venues as are some of the parkland, footpaths and roadway around the township.

There are always plenty of roaming musicians and other performers and the whole township takes on a colourful festival atmosphere with food vendors and carnival activities.
Apollo Bay is about a 2 hour drive from central Geelong via either the Great Ocean Road or inland through Colac and Lavers Hill.
The 2012 Apollo bay Music Festival took place place between April 20 to 22, keep an eye on the April 2013 Intown Events Calendar for the 2013 event.