Birregurra Weekend Festival



2013 Festival – October 11 & 13
This festival wins the Intown pick for the best country festival in the region; the weekend is fantastic and a must for everyone wanting a great day out. We really can't wait until the next Birregurra Festival- we love it and you will too!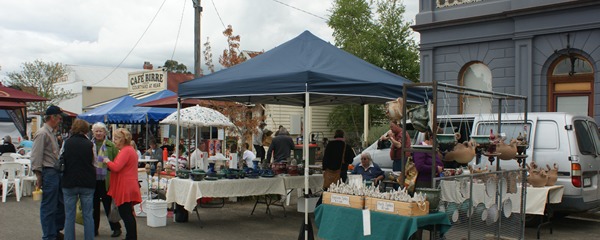 The festival is held in October every year and has been running since 2000. It begins on the Friday night with a special opening and the main festival runs all Saturday and Sunday with so much country fun to experience.
There are animals of all types, llamas, and a wonderful petting farm, pony and camel rides even stunt pigs and reptile shows have been part of the festival over the years. The dog jump also attracts a huge crowd. Kids love the animals but they also love the huge rock climb and amusement rides.
Food well where do you start, the festival has the best of country cooking with dozens of food vendors featuring everything from the humble sausage in bread to gourmet treats. The local breweries and wineries are also on hand offering some of their best brews and wines.
Stages and plenty of hay bales for seating are set up over the extensive festival site and there is always some pretty impressive talent on show including some of the best folk, pop, rock and country artists. These are complemented with the roaming entertainment, magicians, clowns and some other fun people and even the odd fury creature or two.
There are huge markets stretching the parkland and Main Street of the township selling an assortment of gourmet goods including some of the region's best food, preserves, oils and the like. There are plants, arts and crafts and plenty of stalls selling festival items.
The agricultural precinct is another favourite being home to the woodchop and some pretty impressive pieces of farm equipment including tractors and headers. Kids just love it.
Check the Intown Events calendar and make sure you mark the next Birregurra Festival down- you will be back every year!

Birregurra is about an hour out of central Geelong along the Colac road, there is a turn off to the township just before you reach Colac. For those not driving check the train timetables with VLine as the Geelong – Warrnambool train goes right by.