The National Celtic Festival
Put on your warm clothes head and head down to Portarlington for a weekend of Celtic fun you will never forget. There is nothing better than sitting by a warm fire with a Guinness in hand listening to some traditional Celtic music.- it's absolutely delightful.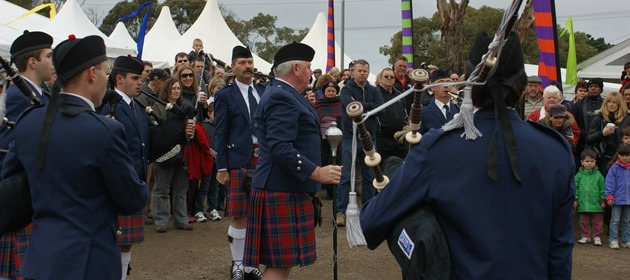 Australia's largest and most diverse celebration of Celtic culture is held annually at Portarligton one of the region's premier tourist restort towns on Victoria's beautiful Bellarine Peninsula. Originally held in Johnstone Park in Geelong the event moved to Portarlington a several years back to take advantage of the town's beauty, space and atmosphere. The event has become one of the Geelong region's biggest events and each year goes from strength to strength.
Portarligton is a small fishing and holiday village about 30km's from Geelong and is nestled amongst rolling hills of the Bellarine and close some of our regions finest wineries, dining and produce. The township overlooks Port Phillip Bay with views of the Melbourne in the northern skyline.. Not only does Portarlington host the Celtic Festival,  it also hosts the Mussel Festival each January and the Bellarine Show in March plus a number of cycle events and sporting events over summer.
The town offers cozy winter venues, including huge marquees, restaurants, cafes, the historic hotel and Parks Hall all within a short walking distance. It's an ideal location for a weekend of Celtic culture, fine wine and cuisine. The weekend features three jam packed days and some pretty lively old nights of entertainment from some of Australia's and the world's best Celtic performers., in dance, music, poetry and even art.
As well as performance there is a huge market not only selling Celtic wares, food and craft but a wide range of items. The whole town gets behind the event and makes it something special.
The Irish, the English, the Welch, Cornish and Scottish all have something to add to this great festival which is rich in tradition and fun. The groups bring together a vast array of dramatic shows, displays, dance competitions and dance, music, and poetry, celebrating the diverse Celtic customs, traditions and history.

The event is held in a range of venues around Portarligton, from the pubs and restaurants to the outdoors and public space and even some large marquees. All venues are in a few minutes walking distance from one another and are fun for the whole family. Don't forget to try some of the fantastic Celtic food on offer and bring a warm jacket to enjoy some of the magical outdoor entertainment amongst the June cold sea air.
The festival is held over the June Queen's Birthday weekend each year, visit the Intown Events Calendar for more information.