Chryslers by the Bay
The Bay City Chrysler Car Club hosts the annual Chryslers by the Bay Show and Shine on the lush lawns of the magnificent Geelong Grammar School in Corio every March.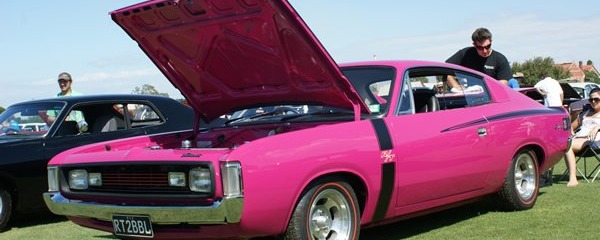 This event attracts a huge crowd and large display of shiny Chryslers from all eras of the company including some very early vintage Dodges and Plymouths. There are always plenty of muscle cars from the 60's and 70's including legendary models like the Challenger, Stingray and crowd favourite Charger RT. Other muscle cars that are usually part of the show include the Plymouth Barracuda and the Road Runner.
The show and shine always has a good turnout of mint condition family sedans including Valiants, Regal and sometimes even early Sigmas which later went on to wear the Mitsubishi badge or Centuras from the 70's.
Newer generation cars are also well represented with new Jeeps, Dodges and of course the Chrysler 300C with plenty of 'bling' which has become an iconic vehicle for the big US brand over recent years. There are quite a number of different divisions in the competition and 23 trophies awarded to the best vehicles.
The Chryslers by the Bay Show and Shine also includes a trade show and swap meet where collectors of these wonderful vehicles can pick up some missing spare parts or swap stories and skills with likeminded car enthusiasts. The show is also a great place to pick up a car with several usually being for sale.

The Chryslers by the Bay has a small entrance fee for exhibitions and a gold coin entry fee for visitors with proceeds going to The Cottage by the Sea at Queenscliff.
The next Chryslers by the Bay Show and Shine will be held on the 11th of March 2018.