Colac Kana Festival
Colac's biggest festival is the Kana festival and in 2012 it celebrates its 55th year anniversary. Originally the festival was known as the Kanyana festival, an indigenous word which had the same meaning as Melbourne's Moomba Festival, "lets get together and have fun". Over the more than fifty years there have been many format changes but the meaning has never changed.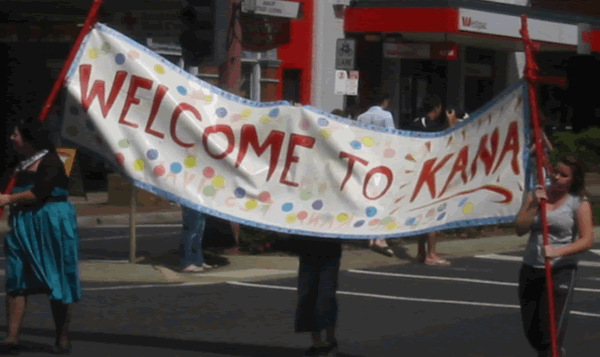 The highlight of the festival is the huge street parade down Colac's main street Murray Street and the 2012 theme is Australiana which promises to be fun. Thousands of people young and old pack the street for this wonderful display of colour, music and fun.
The fun then moves to Colac's main square, Memorial Square where there is a wealth of entertainment, food and good times. There are jumping castles, community groups performing and the old favourites like face painting, sausage sizzles and some local beer and wine for the adults to try.
The 2007 event featured a fantastic new event with the running of the Inaugural Colac Billy Cart Grand Prix. Here teams of parents and children battle it out to be the Grand Prix Champions of Colac.  The 2010 event had an amazing space theme while the 2011 event had a 'its a Bugs Life' theme.  The 2012 Event celebrated "Australiana' while the 2013 event celebrated the story book.

Colac is about an hours drive south west of Geelong along the Princes Highway and has plenty to offer. Visit the Intown Events Calendar for timing of the next Kana Festival.