Denis Walter's Carols by the Bay
The 2015 Event will be held on Saturday the 7th of December from 7:00 at Eastern Beach Reserve.
One of the most loved Geelong Christmas traditions is Denis Walter's Carols By the Bay. Held at on the beautiful grassy lawns of Eastern Beach overlooking Corio Bay this event attracts a huge crowd for a night of entertainment, fun and song.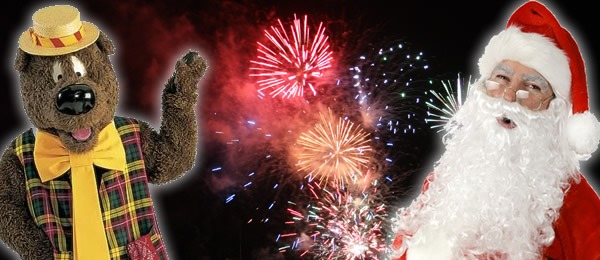 The event is hosted by one of Australia's finest singers and popular media personality, Geelong's own Denis Walter who brings together a wonderful array of guest performers from not only locally but all around Australia to perform old classic carols and some of the newer pop Christmas songs.  The event has been a favourite on the Geelong calendar since 1997 and goes from strength to strength each year.
The highlight of the night is Santa and his friends which often includes everyone's most lovable bear- Humphrey B Bear who never misses to be a hit with the young and old. The night finishes with a dazzling fireworks display reflecting over the bay in a spectacular finale.

Many people get into the Christmas spirit early on the night bringing picnics and spreading out on the lawn setting them self in for a great evening of joy.
Visit Intown's What's On Pages for the next Denis Walter Carols By The Bay.