High Tide Festival
The Torquay High Tide festival is an annual event usually held on the first weekend of December each year just before the township gets swamped with the hundreds of summer tourists. The festival celebrates the wide range of culture, the arts and the environment.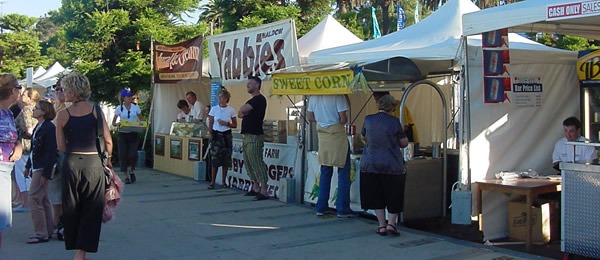 The festival is organised by a large group of community groups, local traders and individuals with the help of the Torquay Foreshore Committee and Surf Coast Shire.
Held in streets and public places around the township creating a great family atmosphere to the township with so much to see and do for the whole family. The festival traditionally kicks off with a great street parade and along the foreshore from Anderson Street to Elephant Walk. The procession features music, plenty of percussion and some very vibrant performers and community groups.
For market lovers, there's the Festival Market which is full of handmade, home grown and ecofriendly products- it can be found on the foreshore between Gilbert Street and Anderson Streets from 10 AM. For those who get up a bit earlier, visit the Torquay Farmers Market in Central Torquay on Bristol Road for the freshest of local produce. This market runs from 8:30 to 1:00 on Saturday.
The foreshore is home to several performance areas which have a plethora of entertainment all weekend; there are all sorts of entertainers and performers. The Elephant Walk is also home to art shows a huge array of expo marquees and plenty of family fun activities.
Saturday evening brings another highlight to the festival, when the foreshore comes to life with fire performers and a huge beach picnic followed by some great live music.
The Billycart races are one of the highlights for the festival on Sunday with speed and ordered mayhem on the Spring Creek Reserve, which is near the Great Ocean Road and Surfcoast Highway round about. Registration starts at 9:30 and the fun starts soon after. The Billy Cart race is brought to you by the 1st Torquay Scouts and is always fun. To add even more atmosphere to the billycart races there will be some great local bands performing close by.
Note: The High Tide Festival has been replaced by the Torquay Festival in 2012. The new festival will run on December 1 and 2.
Official website www.hightidefestival.com.au