Geelong Highland Gathering
For over 150 years the annual Geelong Highland Gathering has been a must see event on the Geelong events calendar. Dating back to 1857, the gathering has brought people from United Kingdom stock together to celebrate their culture and diversity in a wonderful display of colour, music, dance and sportsmanship.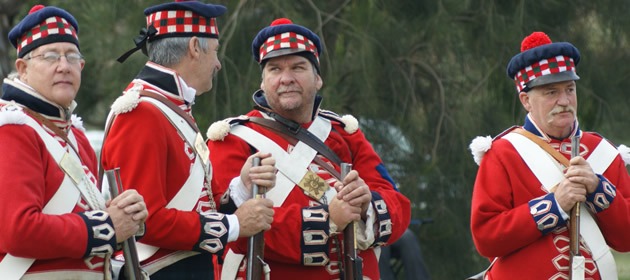 Originally called the Scottish or Highland Games the event was held on New Year's Day in an area east of Bellarine Street in the city, it was then long held on beautiful Queens Park but in 2010 the festival moved to the Fyansford Common beside the historic Fyansford Hotel. For 2012 the event moved to The Geelong Showgrounds before finding a new and permanent home at Deakin University in Waurn Ponds in 2013.
The highland gathering today is organised by the Geelong Highland Gathering Association which is a voluntary, incorporated, not for profit, cultural organisation and is one of the most popular, and comprehensive displays of Scottish culture, livestock, merchandise and musical folklore in Australia and known for attracting anything up to 6000 people annually. It is one of Australia's biggest and most diverse events celebrating the Scottish and Celtic cultures.
Some of the highlights of the event include the Australian Haggis Hurling Championships; this event is a real winner with the large crowd and so much fun. Wood chopping is another great spectator sport where big burly men chop timber as if it was butter. There are also some very talented Scottish folk bands and of course the amazing highland dancing all offering enjoyable entertainment throughout the day.
The highlight of the day is the incredible massed pipe bands marching on the field with their bag pipes and drums. It is a multi-sensory thrill, the bagpipes send shivers down your spine while your eyes and ears are amazed at the spectacle.
For animal lovers the Highland Gathering offers a chance to get up close to some of the animals Scotland is famous for. Beautiful woolly highland and Galloway cattle, plenty of Shetland ponies and of course Scottish terrier dogs and puppies; they are just so cute.
A day celebrating everything Scottish isn't complete without trying some of the sometimes interesting but very tasty Scottish delicacies. Why not try some delicious Haggis or maybe not. There's plenty of other tasty foods like tasty Scottish sausages, baked goods and who can resist the beautiful shortbread and scones with whipped cream and jam.
The Geelong Highland Gathering is also a favourite for the young, there's plenty of fun for them with jumping castles, face painting, animals and much, much more.

Pack your picnic, put on your best tartan and head to one of Geelong's premier events, we are sure you will love it and be back the next year with all your friends.
The 2018 Geelong Highland Gathering is being held at Goldsworthy Reserve in Corio on the 18th of March 2018.
Or www.geelonghighlandgathering.org.au