Lara Food and Wine Festival
The Lara Food and Wine Festival is a huge event held at the historic Pirra Homestead in Windermere Road surrounded by the Serendip Sanctuary. The festival is held each year on the fourth Sunday in March and attracts around eight thousands of visitors to the one day event.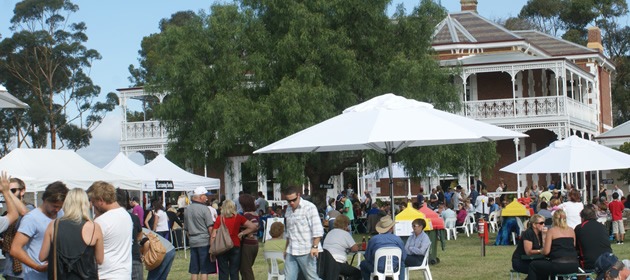 The grounds of the homestead are the perfect place for a big event like this, there are magnificent gardens with plenty of shade and huge expanses of grass for the dozens of tents selling some of the regions best food, wine and beers.
The 2011 event saw a host of cooking demonstrations including chefs from some of Geelong's leading restaurants and also featured some well known celebrity chefs including televisions Gabriel Gaté who has cooked at the event on several occasions. While the 2012 Event held on Sunday the 25th of March featured Master Chef and cravat lover Matt Preston who helped draw a huge crowd. Geelong festival favoirte Dazzling Dan the Magic Man and Reed Street also performing as did the Party Girl who the kids really enjoyed.
The day also featured plenty of fun for the family including roving entertainment, art exhibitions including a very novel edible art competition and as we mentioned earlier there were plenty of cooking demonstrations where visitors learnt in easy steps how to prepare amazing dishes.
Each year the event takes on a huge festive atmosphere with thousands enjoying picnicking on the grass while sampling some gourmet delights and listening to the great music. The stalls have a diverse range of foods including Spanish, Thai, Dutch, German, Polish, even the humble sausage and sauce are represented. Several of the region's best vineyards attend as do some great brewers who have a wealth of tasty and special release beers.

Many stalls have their gourmet items for sale to take home, including olive oil, cup cakes, jams and preserves, speciality meats and of course beer and wine.
The festival has free entry and even the parking is free so it is a fantastic family event and not to be missed, the biggest issue you will find is knowing what to try first, and knowing when to stop as the food is so delicious.