Moriac Makers & Growers Market

The Moriac Makers & Growers Market is one of the newest markets in the wider Geelong region. Located at the Moriac Community Hall in Newling Reserve amongst the rolling farmland of our south western outskirts the market attracts a huge crowd looking for fresh produce and quality fare.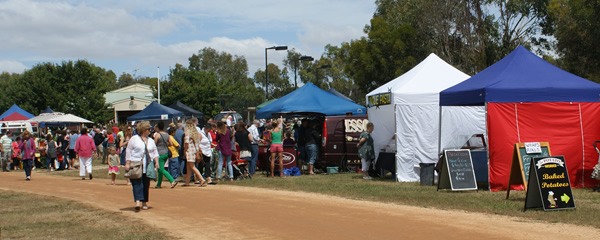 The market specialises in local and organic produce, homemade food including some incredible cakes, slices and cookies, Art and craft which includes a great selection of local items. There are always some of the region's best vendors on hand to grab a bite for lunch including fresh local ice-cream, lemonade and tasty snags and burgers. Live entertainment gives the market a fun festival.

The market runs from 9:00 AM to 2:00 PM at the Moriac Community Centre at Newling Reserve on Hendy Main Rd in Moriac. Moriac is only a few minutes drive off the Princes Highway between Geelong and Winchelsea. At the time of writing the next Moriac Makers and Growers Market is due to be held on on the 6th of January 2013.
Quickfacts
When: Less than a handful of dates throughout the year. see link below.
Where: Moriac Community Centre at Newling Reserve, Hendy Main Rd, Moriac.
Cost: Free Entry.
Contact: http://www.moriacmarket.blogspot.com