Toast to the Coast

Wineries across Geelong – one of Australia's truly iconic wine regions – And in 2013 will be celebrating in style as they 'Toast' the 11 Year Anniversary of this major annual festival. The event will take place over the Melbourne Cup weekend of November 2 and 3.
More than 25 wineries will be showcasing their premium cool climate wines in a weekend of sensational wine, food, music and fun! $40 per weekend pass includes a $10 commemorative Geelong Wine glass – your passport to free wine tastings at all host vineyards. Unleash your senses and discover Geelong Wine and this enchanted epicurean region. . . it doesn't get better!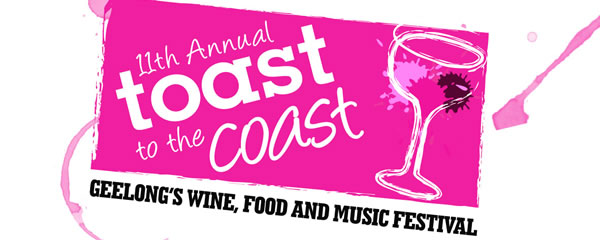 The festival originally started as a large expo on our waterfront but is now a fantastic tour of our regions vineyards, where you can sample their unique wines and try some of the freshest and tastiest local produce. The festival stretches the whole region taking in the Bellarine Peninsula, Surfcoast and the beautiful Moorabool Valley wine regions.
Many of the wineries will be putting on something special for the festival, some with gourmet cooking lessons, others with special wine talks and others with an array of great entertainment including jazz musicians and the like. There will be activities for the kids, farmers markets and even local artists showing their talent.
Back in the 1900's wine was a big industry in the Geelong region but the nasty vine disease Phylloxera brought and end to that, but in the mid 1960's our wine industry started again from a small vineyard in the Moorabool Valley. Others soon followed, around Waurn Ponds and on the Bellarine Peninsula.
Today just over 40 years later the Geelong wine industry is flourishing and we produce some of Australia's best wines, our beautiful sea breezes, ideal soil and ideal climate for growing grapes like Chardonnay, Sauvignon Blanc, Shiraz and Pinot Noir. Many of our wineries have open door cellars around the year and several of them have restaurants and cafes making them ideal locations to visit on day trips to our region. The Toast to the Coast Festival is an ideal opportunity to visit some of these wineries and explore the greater Geelong area which is simply beautiful in the springtime.

Tickets, touring maps and shuttle bus details online at www.toasttothecoast.com.au