The Rotary Torquay Motor Show
The Torquay Motorshow is ran by the Rotary Club of Torquay and held along the Elephant Walk parkland on the Esplanade overlooking the Torquay's magnificent beachfront in an effort to raise money for community projects in the region.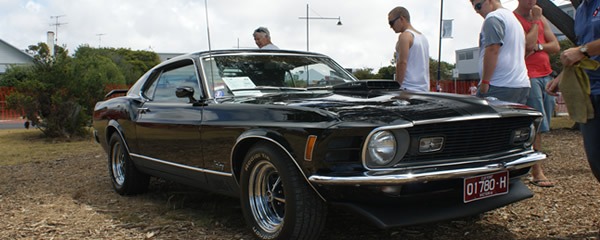 The event has about 25 prize categories which attracts a wonderful array of vehicles from all eras of motoring from the vintage right through to the current day V8 muscle and performance cars. Many motoring clubs get involved in this event and bring some magnificent vehicles to the show.
The event has about 25 prize categories which attracts quiet a selection of vehicles
There always some mind boggling restorations, and some very interesting modifications including many hot rods and specialty vehicles. The great muscle cars of the 60's and 70's are always well represented with with local Falcon GT's, Monaros and Chargers and the US Mustangs, and Chevys and Chryslers.
There are European exotics like Ferrari and Lamborghini and a great collection of luxury vehicles, and let's not forget the British invasion with Mini, MG's and Morris's.
The event is one of the bigger events on Torquay's busy calendar over summer and usually attracts several thousand spectators out so see some beautiful cars.

The day is a fantastic family event with a fun atmosphere, there food, entertainment and plenty of fun for all ages. Many families picnic under the shade beside the cars before heading down to the beach for an afternoon of fun.
The 2017 Torquay Motor Show will take place on Sunday the 12th of February keep an eye on the Intown Events Calendar for confirmation as the date approaches.