Geelong Farmers Market


On the second Saturday of each month central Geelong's Little Malop Streets between Moorabool and Yarra Streets comes alive with the Geelong Farmers Market. The market has been a popular event since commencing in 2003 and brings a great vibe to the city attracting thousands for some of the freshest produce and gourmet products.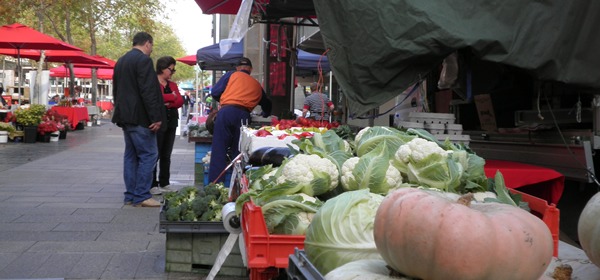 The market has dozens of stalls selling some of best local produce from our region plus many delicious gourmet goods including jams, biscuits, breads, wines, cheeses, olive oils and sauces, not forgetting the most beautiful of fresh flowers. The market is a great place to get real organic vegetables direct from the farmer they taste just so good.
The market usually has a host of entertainment and it often includes local chefs and cooks demonstrating how to cook our magnificent produce and turn them into mouth-watering dishes. These mini cooking classes have become a major draw card for the market with famous names like Chez Jo being among the guests giving demonstrations. As well as cooking demonstrations there's music and other entertainment to add a real festive character to the morning market.
The kiddies haven't been forgotten either with plenty going on for them, there are of course delicious home made , face painting and other activities and most market days there is usually a petting farm where the young can get up close to some delightful baby farm animals like cows, sheep, goats, ducks and rabbits.
The Central Geelong Farmers Market has really given our rejuvenated city precinct a great attraction and something for locals and visitors to look forward to and a great chance to get away from those processed tasteless fruit and vegetables we are so used to buying from the supermarkets.

The market happens year round and is held on the second Saturday of the month from 9:30am to 12:30pm in the Geelong Mall outside Market Square between Moorabool Streets and Yarra Streets. The market is one of the many initiatives that the Central Geelong Marketing Committee has set up to help promote the business district of our city. If you would like any more information on becoming a store holder or just general info contact the Market Co-ordinator Shelley on 03 5227 0938.