Henry the Elephant Seal
One of the more unusual and most popular visitors to Geelong in recent years, was Henry the seal. Henry was an elephant seal that visited our city for a few months at a time over a number of years. His last reported visit was in 2005, when he made our beautiful waterfront his home, which was a far cry from the industrial environments of Point Henry on the eastern shoreline of Corio Bay where he has enjoyed his previous years stay.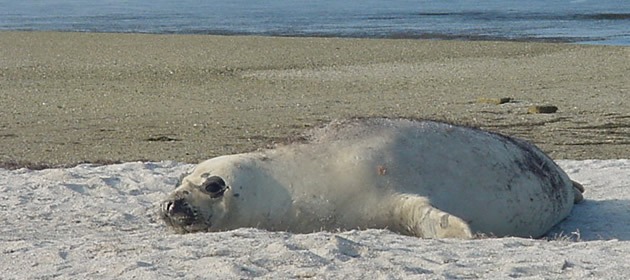 On Henry's last visit it was common to see him lazing around the sand or lush grass of Richie Boulevard, taking shade by a palm tree, without a care in the world. Henry was pretty lazy and didn't get up to much other than to delight the hundreds of visitors who flocked to see him each day. Most of the time he was too sleepy to even notice their presence.
It was believed that at the time Henry was a 7 year old southern elephant seal, seals are generally known as an alpha male when they reach 8 years and start breading between 8 and 12 years. Henry and his fellow elephant seals come from the Southern Ocean between Tasmania and Antarctica, that's why he needs his blubber, and he should keep growing, the biggest of the Elephant Seals can reach in the vicinity of 2000 kg.
In the ocean Henry hunts for fish and the elephant seal just loves squid, he's also partial to a penguin or two. It's hard to imagine this lazy creature to be as active and flexible as he is in the water, he can dive and stay underwater for around an hour while he hunts for his dinner.
With all that blubber seals are not too good at moving around on land for any long distances, but an elephant seal can move very fast on a short sprint. And although looking pretty docile being such a big animal they could a seal like this could very dangerous for anyone getting in his way. During his visit to Geelong he had around the clock carers, just to ensure he was kept safe and visitors are kept at a safe distance.

Henry left Geelong on the 10th of July 2005 and has not been seen since. Some suggested that he may have become the lunch of a whale or shark as if he was still around, would have most likely would have visited Geelong again, we all hope is safe and well and one day he will come back to our city and thrill us once again.