10 things about Geelong – Johnstone Park

Johnstone Park sits on the western edge of our city centre and was once a swamp and later a dam. It became a park in 1872 and today it is tranquil sloping parkland with lush palm trees and an ideal escape from the city.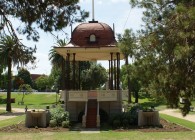 1. The Hitchcock Memorial Bandstand
The main focal point in the centre of the park is the beautiful The Hitchcock Memorial Bandstand. It was was erected in the park 1873 and is used as a backdrop to many performances and events in the park.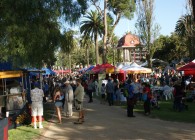 2. The Geelong Night Market.
The market takes place on Friday nights during February and features an amazing array of multicultural cuisine, entertainment and plenty of market stalls selling a wide range of interesting products. The market attracts a huge crowd relax under the palm trees enjoying the festive atmosphere.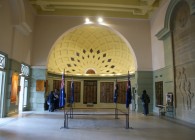 3. The Geelong Peace Memorial
Located at at the north western corner of the Art Gallery is one of Geelong's most special places, The Peace Memorial. This magnificent structure commemorates those in our region who have been lost in War. The memorial has some Geelong's most beautiful examples architecture including one of the most amazing ceilings you will ever see.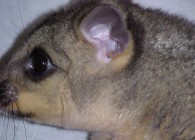 4 The Possums
If you are ever around the park at dusk on a warmer night you are bound to see some of our city's favourite marsupials fossicking around on the lawn or climbing trees. Johnstone Park has many native brush tail possums. Some people consider them as pests but we really love them, just don't get too close because they are known to scratch and bite.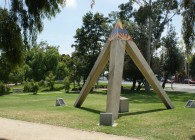 5. The Apex Sculpture
Standing overlooking Malop Street is an interesting three pronged triangular sculpture dedicated to the formation of the Apex Club of Australia. Apex is a community service club which began in Geelong back in 1931 and has grown to around 330 clubs throughout Australia.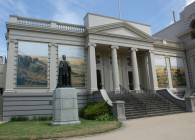 6. The Geelong Art Gallery 's "Bush Burial"
The Geelong Art Gallery has a wonderful collection of sculpture, drawings, paintings and other forms of art, but our favorite is the painting entitled "A Bush Burial' which was painted in 1890 by one of Australia's most notable artists Frederick McCubbin. This oil painting on canvas is over two metres wide and a metre high and shows a sad but uplifting scene of a family burial.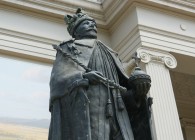 7. Statue of King George V
Geelong does not have a great deal of bronze statues and just like the magnificent Queen Victoria Statue in Eastern Park the King George V statue in Johnstone Park is one of our finest. Standing proudly on a granite stone looking out into Johnstone Park King George V was unveiled by Victoria's Governor in 1938.  He was cast at the Fonderie Chivrazzi in Naples Italy and designed by sculpture Wallace Anderson.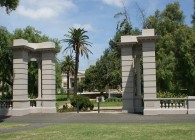 8. The Hitchcock Memorial Gateway
Howard Hitchcock was mayor of Geelong from 1917 and 1922 and was a well-regarded civic leader and has his name remembered on many things around our city including the English Renaissance style Memorial Gateway at the corner of Mercer Street and Gordon Avenue. This structure built in 1925 leads the way to the Geelong Peace Memorial and offers a lovely vista of the parkland.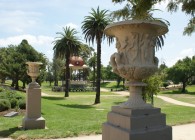 9. The De Medici Urns
Johnstone Park is home to two beautiful cast iron urns called the De Medici Urns based on urns from the Florentine Italian Renaissance period. The urns were presented to the city by Mrs John Bell in 1873 and installed in Gheringhap Street, then later moved to Johnstone Park by the then Mayor Howard Hitchcock in memory of his mother. These along with some other beautiful urns at Corio Villa overlooking Eastern Beach were cast by accomplished iron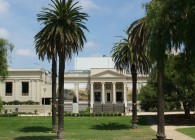 10. The Palms
Johnstone Park is home to some of Geelong tallest palms including some huge Canary Island Palms these beautiful trees help give the park a relaxing and lush feel. They offer great shade on a hot summer's day for picnickers or for people just wanting to kick back and enjoy life.
These are just a few of the great things in Johnstone Park.  We would love to hear your thoughts and comments. If you have something that belongs on the list drop us a line on Facebook, Twitter or email us at info@intown.com.au