T&G Building Geelong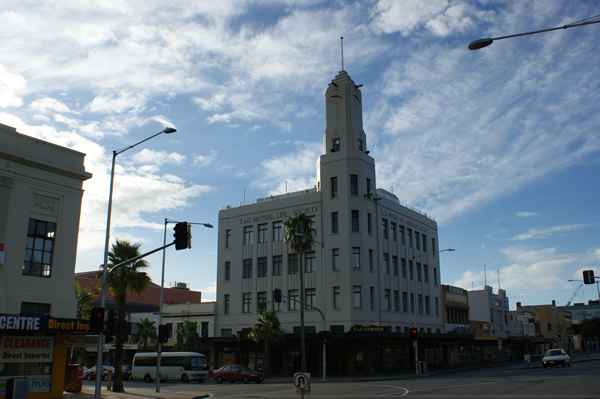 One of the most notable buildings on Geelong's skyline is the beautiful Art Deco and heritage listed T&G building. This iconic building has stood on the corner of Moorabool and Ryrie Streets for nearly 90 years. Designed by A&K Henderson, the building was built for the Temperance and General Mutual Life Assurance Society or the T&G. The T&G built many buildings in a similar art deco style around Australia and even New Zealand. The beautiful and distinctive white rendered facade and clock tower of the T&G can be found in Mildura, Horsham, Melbourne, Townsville and Hobart, but Geelong's is by far the most impressive.
In 1934, the famous Father and Son clock, built by renowned clock makers Harrison Bradfield and Ingrams, was installed. This clock extends out from the tower on the hour when the Father and Son figures bang their enormous bell. These two figures have become such an identity around Geelong they are often dressed in Geelong Football Jumpers during the football finals; they even get a Christmas make over some years with a red hat and coat. The building has been recognized by the Victorian Heritage Council and has recently been restored to its former glory after looking a bit worse for wear a few years ago. The figures are life size and the father is wearing farmers clothing from the 1930's. The father and Son clock were a symbolist message during the great depression of the 1930's to hand responsibility and wealth to the son.
The T&G Company are now part of the National Mutual Life Association and have been out of the building for a number of years, although the T&G logo and signage still remain.
After renovation in the late 2000′s, the old T&G got a new lease of life with the upper floors of the building rented out for offices. The street level soon became home to a boutique, a travel agent and two coffee shops with the Gloria Jeans coffee lounge taking up the iconic corner location. With the recent downturn in Geelong's economy, these ground floor shops are now vacant. The basement of the building was for many decades a large sports store until it closed in the mid 1990′s. The basement was then home to a bar and popular nightspot known as Basement 159.
In mid 2014 it was announced that Deakin University has purchased the building for almost $2.8 million and have plans to convert the building into student accommodation. Work got underway on the transformation in May of 2015 with the former office space on the upper floors transformed into studio apartments to provide affordable accommodation to students who attend Deakin's waterfront campus. Opened in mid 2016 the T&G building has once again been restored to its former glory.