The Geelong Ovoid Aqueduct
One of the more fascinating and relatively unknown nationally significant landmarks in our region is the unloved and deteriorating Geelong Ovoid Aqueduct. This historic structure links Breakwater to Marshall across the Barwon River and was constructed between 1913 and 1915.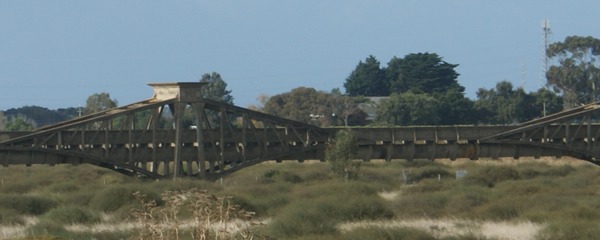 Stretching 738 metres long, the aqueduct was built to carry sewer pipes from the city to the coastal outfall at Black Rock near Breamlea. For much of its life the sewerage that flowed to Black Rock went straight out into the ocean. Today, Black Rock is home to Geelong's main sewerage plant where the sewage is filtered before heading out to sea.
The aqueduct's design is very unique and was believed to be inspired by a steel railway bridge in Scotland. The concrete bridge has fourteen pylons with some very clever cantilevers and was renowned as an engineering masterpiece when it opened in 1931. Many people in the architectural world still rate the structure as an important piece of architecture. Dr Miles Lewis, an associated professor of architecture at Melbourne University once stated, "The aqueduct is internationally significant and was one of the most extraordinary engineering structures in Australia".
At the time of construction, the aqueduct was considered to be the longest span of any reinforced concrete structure. This was the centrepiece of Geelong's extensive sewerage network which was one of the first regional cities in Australia to have such a system. For this reason the aqueduct is on the Victorian National Estate Register. Similar technologies were used in the Bow Truss Building, a Dennys Lascelles Austin Wool store that was constructed in 1909. This building once stood where the Transport Accident Commission, or TAC, now stands in Brougham Street. Like the Geelong Aqueduct it was designed by Tasmanian engineer Edward Giles Stone and his partner Ernest J. Siddeley.
Sadly, the structure is no longer regarded as safe and there is no public access to this once modern marvel. The water authority stopped using the aqueduct in 1993, moving to more modern methods of distribution. Since then the structure has slowly deteriorated and is currently in poor repair. Several decades ago there was talk of what to do with the aqueduct, some wanted it removed due to the cost of its upkeep, while others wanted it preserved. There were many grand ideas and half-baked plans, but interest was soon lost and the structure was left to slowly fall apart and one day return to the earth.
With major development plans for the Marshall side of the river as part of the huge Armstrong Creek project, hopefully the Aqueduct will inspire some vision again and a plan put in place to resurrect this national treasure before it finally collapses and disappears for ever.