The Wyndham Explorer
The Wyndham Explorer is the name given to a ferry that stared servicing Wyndham Harbour in Werribee South to Docklands in early 2016. The operators of the service, Port Phillip Ferries, were disappointed with the low patronage from the Wyndham Harbour service as it struggled to compete with existing train services to Werribee.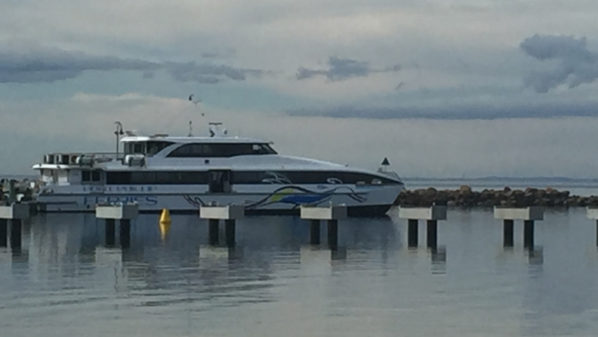 In August 2016 the operators of the ferry started a trail service to Portarlington much to the joy of residents of the Bellarine Peninsular.
UPDATE: 21st November 2016. The State Government of Victoria has announced the ferry service will become a permanent route for the next three years.
The trial timetable sees the Portarlington service catering for those who commute to Melbourne for work as well as a services during the day and on weekends. The trip itself takes 1 hour 30 mins to reach Victoria Harbour in Docklands. With tickets costing 12.50 each way the Portarlington service not only competes on price but also on travel time with the Geelong train if you take in to account the hassle of driving from the Bellarine to Geelong to catch the train.
The ferry itself is a 35 metre Catamaran that was originally built as the Capricornia Dancer for the Gladstone to Curtis Island service in Queensland. Delivered in September 2011 the vessel was the first of 5 sister ships that operated out of Gladstone. Known as an Enviro-Cat, the ships were built by Aluminium Boats Australia in Brisbane and are powered by 4 Scania engines that are each rated at 499kW at 2,275rpm. The ships are said to have a low wake, low emissions and ultra-low fuel consumption despite having a maximum speed of 36 knots. On board there is seating for 400 people in a pleasant undercover and air-conditioned environment.
It has been suggested that to make the service viable at least 300 passengers need to use the service on each crossing. Being a privately run company the costs of running the ferry are not offset by the government of the rest of the public transport system so the operators have put their faith in the Bellarine Peninsular residents in the hope of creating a viable service.


Interestingly, Portarlington has been home to ferries several times over the years and there has been several calls to bring them back. From the 1840's to the 1940's ferries known as the Bay Steamers were a familiar sight on our bays. Fast forward to 1987 and a hovercraft known as the Courier made its way across the bay linking Port Melbourne and Rosebud for a brief period. Several studies and proposals have called for the ferries return over the years and the Portarlington Safe Harbour Project even factored in ferry berths in the design. Let's hope this new service has what it takes to continue on past its trial run.