Yarra Street Pier
For decades the redevelopment of Yarra Street pier has been a hot topic of debate. For much of the 1980's the pier stood out on the waterfront as a derelict mess sealed off to visitors due to safety concerns. Several proposals were floated to turn the pier and its historic building into everything from marinas to cafes.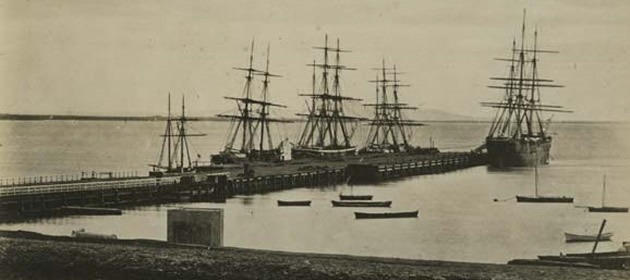 One of the first proposals was 1981's City by the Bay concept, this plan focused on expanding the marina capabilities of the pier given its proximity to the Royal Geelong Yacht Club. Later proposals saw tourism facilities or restaurants mooted to take up residence in the pier's green shed. Sadly, while a lot of discussion on who was to pick up the tab on the piers restoration was going on, the pier's historic shed burnt down in October 1988.
Today little remains of the Yarra Street Pier, after the fire much of the pier's timber that had been removed was reused by local artist Jan Mitchel for the waterfront bollards project. A small section of land that juts out to the right of Yarra Streets end is all that remains of the pier today, it's here where helicopter joy flights now operate. Aerial photos like those of google earth show remnants of the old pier in the water extending out at least 500 ft.
In 2011 a new proposal was launched to rebuild the pier. The plan was to replace the original pier with a new structure that was part fixed and part floating. This could accommodate cruise ships as well as provide moorings for smaller recreational and charter boats.
If given the go ahead, the pier would have 78 new small craft berths. If the pier can attract cruise ships to Geelong, this will be a great benefit to tourism and the economy of the region. The new pier will also provide better shelter to the Yacht Club, something the club has lamented since the demise of the original pier. This shelter would also help attract additional Maxi yachts to the club's Festival of Sails.

The city has committed $5 million towards the Yarra Street Pier project, while the Royal Geelong Yacht Club has promised $2.5 million, the city is now seeking funding from the State Government for the remaining $15 million to complete the project.
UPDATE: After an influx of cruise liners visiting Geelong over the 2013/14 summer, the Yarra Street Pier has been made one of the top priorities for the City of Greater Geelong and they are working hard to seek funding. A brand new concept has been released that includes a convention centre and world class facility with an amazing architectural design.