Myths, Legends & Tales of the Geelong Region
The Geelong and surrounding region has a rich heritage of myths, legends and tales, some true, some not so true and many well who knows?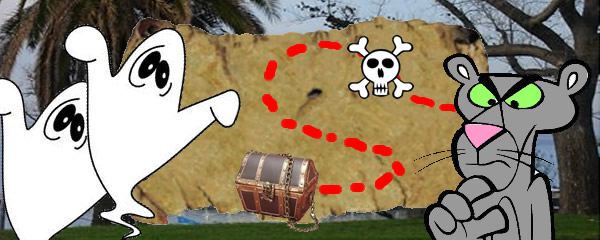 Panthers in the Otways
This story has been coming and going for decades, every few years there are reported sightings, footprints or even unexplained dead stock which have been attributed to a large cat like creature that is possibly a panther. Most of the so called sightings have come from the Otways and Western District, but there have even been reports from bushland around the You Yangs and Brisbane Ranges over the years. There are stories that these cats have come from abandoned military mascots or even escaped from illegal exotic collectors, while others think they are hybrid or mutated domestic cats. Most often the stories have turned out to be hoaxes or just big black domestic cats. There have been many sightings and quite a few photographs over the years but none have been able to give conclusive evidence of the creature's existence. Similar stories are told from other parts of Victoria including around the Grampians and Gippsland. As a tribute to our region's most mysterious creature, the Otway Estate Brewery in 2011 released "Black Panther India Black Ale" as part of their limited release Prickly Moses beer range.
Haunted Geelong Gaol
Geelong's notorious old Gaol on the corner of Swanston Street and Myers Street is believed to be one of the region's most haunted buildings. The site of many executions as well as a few murders, the gaol opened in 1863 and was closed in 1991. Several paranormal research groups have visited the prison hoping to make contact with ghosts after many reports of spooky activity, with several orb like images discovered. One paranormal housemate is believed to be James Murphy who can sometimes be felt around cell 47. James was the first person sent to the Geelong Gaol Gallows back in 1863. The Gaol is now a museum and is open to the public, and there are even regular night time ghost tours, but only visit if you dare! The old homestead at St Albans Park and Barwon Grange overlooking the Barwon River are two other notable buildings that some people believe are haunted.
Hidden Treasure
With our entire coastline, it wouldn't be right if we didn't have a buried treasure story, and we sure have a beauty. Swan Bay on the eastern edge of the Bellarine Peninsula is meant to be home to a huge bounty of gold called the Lost Loot of Lima. It is meant to consist of some beautiful golden religious statues and a bounty of gold and gems worth in the vicinity of $300 million or more on today's market. The treasure was stolen from South America by a pirate called Bloody Sword Benito Bonito who was captured leaving Port Phillip Heads in the early 1920's without the treasure. Poor Bonito was put to his death by the British before any treasure could be found, who knows it may still be out there amongst the mud and scrub.
The Geelong Keys
One of Australia's biggest historical mysteries centres around a set of keys found close to Lime Burners Point overlooking Corio Bay, not far from where Eastern Beach stands today. These keys were found while a quarry was being excavated and indicate that they might have been there for hundreds of years before Mathew Flinders, who was the first know explorer to enter the bay back in 1802. It is thought the keys belonged to a Spanish or Portuguese vessel who must have come into the bay maybe two hundred years or more before Flinders. With all our fancy carbon dating and high tech gizmos you would think we would be able to date them, but the keys were lost before they could be documented or even checked by any experts. Even a sketch of them taken by Charles La Trobe, who had seen the keys was lost. Today there is a large bluestone marker at on the on the cliffs at the base of Eastern Park commemorating the legend of the keys. The keys were also referenced as a major part of the story in Robert Ingpen's book "The Voyage of the Poppykettle". Robert was born in Geelong and the legend of the fictional Poppykettle continues to excite school children across the region. An annual childrens festival is named after Robert's popular book.
The Mahogany Ship
A story that may be connected with the Geelong keys is the legend of the Mahogany Ship. In 1846 the remains of a mahogany or cedar ship were reportedly found near Armstrong Bay, a few kilometres west of Warrnambool. Thought to be Spanish, Portuguese or even Dutch the wreck was thought to be decades if not centuries old. Some people even suggest it might be of Chinese or even of French origin.
There have been many searches including several very serious searches in the past twenty or so years. No traces of a vessel have been found although a few fragments of 3000 year old olive tree wood were reportedly found in the area. With over 150 years since the reported sightings there have been many doubts over the years of the reliability of the witnesses and the passing down of the story through the decades. The Victorian State Government in 2002 offered a quarter of a million dollar reward for anyone who could locate the vessel, but withdrew it a year or so later. Proof of the ship's existence would rewrite the history of Captain Cook being the discoverer of the east coast of Australia.

William Buckley
The legend of William Buckley is another of the Geelong' region's greatest historical legends, but this time true. Buckley was born in Cheshire England in 1780 and was sent to the colony of New South Wales for pinching a piece of cloth. He escaped from the HMS Calcutta in December of 1803 off the shore of Sorrento and over time continued around the bay settling in our region. Buckley lived with the local Wathaurung People until he was found by Europeans in 1835. The following year Buckley was given a pardon and became an interpreter between the Wathaurung People and the Europeans.
Buckley lived in the region until 1837 but got a bit disillusioned and end up moving to Van Diemen's Land where he did a number of jobs before dying in 1856. Today Buckley's name is immortalised around our region including Buckley's Falls at Queens Park overlooking Fyansford, Buckley's Cave at Point Lonsdale and the term Buckley's chance which has become an Australian colloquial term for luck.
Bunyips
Most People believe the Bunyip is nothing more than an Aboriginal dreamtime story, but like many mythical creatures, there will always be a few people out there who think they have seen the beast. The early to mid 1800′s were a popular time to be a Bunyip with several people reporting to have seen one, and even a few newspapers hopping on the bandwagon for a sensationalist front page story. One such person to speak of the Bunyip was William Buckley in his 1852 book, not only did he claim the Wathaurong people told him about the creature but he also said he saw one. He said that Bunyips can be found in Lake Modewarre or the Barwon River. Most people thought old Bill was a bit demented when he claimed this and seeing that there has been no evidence to support that the Bunyip ever existed they were probably right.