Sleepy Hollow
During the Gold Rush era towns like Ballarat and Bendigo were swelling in numbers with miners and others flocking to find their fortune and many more coming to the 'golden triangle' to set up small businesses which fed off the miner's riches. Geelong did very well out of the early gold rush town, already established as a thriving port and wool hub, Geelong was also the closest sea port to the goldfields.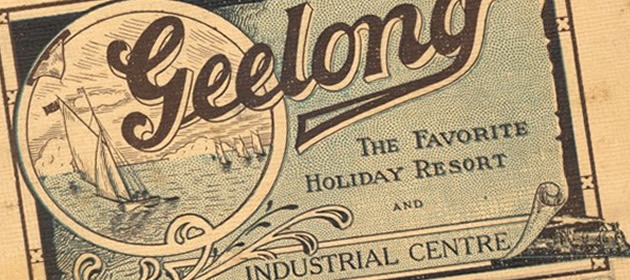 But then came along, Melbourne which wasn't doing quiet as well as Geelong during the gold rush which was looking at becoming the premier city. Melbourne pulled a pretty shifty and underhanded scam on Geelong which played out pretty well in their favour. Melbourne published a false map of their proximity to the gold fields and scaled things in their favour, making Geelong look much further than them to the gold fields, when in fact it was the other way around, with Geelong being a bit closer. Well people believed it and Melbourne started to thrive faster than Geelong which lost a lot of the Gold Rush spoils and trade. The cheeky people of Melbourne then added another insult to the mix, labelling Geelong "Sleepy Hollow" which went onto haunt them for decades to come.
In fact this tag took quiet a long time to shake and it came back with vengeance to our city in the late 1980's and early 1990's. Geelong was built on wool, manufacturing and ports, and around this time in Australia modernisation, free trade agreements and other political and monetary issues cased many what where Geelong institutions to close or rapidly downsize. This along with what was to be one of Australia's worst financial crisis's the Pyramid Building Society collapse which was basically Geelong owned and ran put Geelong and its people through a lot of hardship and bad times. Even the now mighty Geelong Football Club, the Cats, couldn't take a trick with more than enough Grand Final losses in this period for anyone to want to remember.
It wasn't really the turn of the century when what was derelict wasteland began to transform into what is now our magnificent waterfront precinct, With major projects like Deakin University, The Cunningham Pier development and landscaping and the area being used for our major events, other investors saw the potential and slowly added some much needed confidence to the city. Now over 10 years later the name has well and truly been put to rest, Even our much loved Cats have even won a few premierships since those dark old days, and the memory of "Sleepy Hollow" is now well and dead.
Geelong now regarded as one of Australia's fastest growing centres, with development and prosperity coming to the city and region like never before. We might have missed the spoils of the Gold Rush in the 1850's but the good times are certainly here now. We are on the door step of some of the country's best beaches, minutes away from a diverse collection of seaside and rural towns. A full calendar of arts and some amazing attractions and heritage, not forgetting being one of the major event capitals of Australia- and we are home of the mighty Cats!
The term "Sleepy Hollow" is probably the worst insult you can give to our city, we have tried for decades to shake it off, and to be truthful there was a period (or two) where the name was more than fitting.  Even the recent closure announcements of Alcoa and Ford's manufacturing operations have done little to dampen the spirits of Geelong.
Today Sleepy Hollow doesn't  resemble anything Geelong is or stands for as we take positive steps to becoming a world class regional city, ready to overcome any hurdle and look towards the bright future ahead.

But the name is not completely wiped from the Geelong landscape, a local blues club takes on the name as the Sleepy Hollow Blues Club, they celebrate some great music and are responsible for the great New Year's Eve Bluestone Festival which is held at Murgheboluc on the Hamilton Highway about 15 km's out of the city centre.