Split Point Lighthouse
After more than 10 tragic ship groundings or sinkings in the vicinity it was decided a lighthouse would be built at Aireys' Inlet and positioned at Eagles Nest Point. Today standing 66 metres above sea level this lighthouse is still one of main the focal points on the coastline along the breathtaking Surfcoast and Great Ocean Road. With its distinctive white chimney like structure and red helmet the magnificent Split Point Lighthouse standing 34 metres high above the cliff tops has been protecting shipping passing through our region for more than 130 years.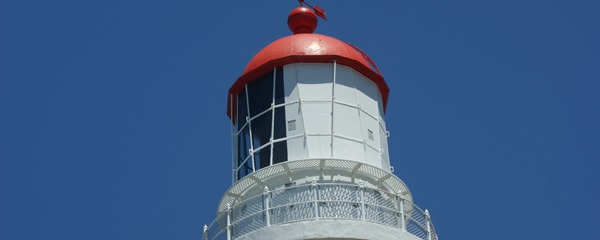 The lighthouse is today under the control of the Australian Maritime Safety Authority which is responsible for the safety of shipping movements off Australia's 36700 kilometres of coastline. This lighthouse is one of a number of very important light houses stretching along our region's coastal townships from Queenscliff to Cape Otway.
The lighthouse is made of concrete and was constructed in the 1880's and opened in 1881, it was originally known as the Eagles Nest Point Lighthouse and renamed to The Split Point Lighthouse in 1913, but locals know and love it as the "White Lady" or "White Queen".
The original plans for the lighthouse were to build it of stone but with the site being so difficult to get stone to it was later decided to construct it from concrete and crushed rock. Messrs R. Anderson and Sons which were originally stonemasons from Scotland had planned to bring stone from the Melbourne area by sea but the the vessel was wrecked in strong seas and things just got too difficult so locally sourced products were decided a much better option. The construction called for a pretty impressive list of materials as the foundations are around 4 metres deep and the walls at floor level around 2 metres thick and around 50 centre meters thick at the top. In all it is estimated around 800 cubic metres of concrete was used in the structure.
The lighthouse features a brilliant Frensel Lens which has a 920 mm focal radius and is made out of a unique crystal constructed by Chance Brothers, a company from Birmingham in the UK. The Chance Brothers factory was destroyed during World War II and is no longer in existence so the Australian Maritime Safety Authority has had to do extensive research into finding a suitable company which would be able to produce a replica if it was ever needed. It has been estimated the cost of replacement for this lens would cost in the vicinity of a million dollars if it was needed to be replaced.
The lamps were originally lit by vaporised kerosene but they became fully automated in 1919 and unmanned after being switched to acetylene when the Commonwealth took over the lighthouse and upgraded it. The lamps were further upgraded in 1972 to work off mains electricity with a diesel backup. Now powered by a 120v 1000w tungsten halogen lamp the lights group flash 4 every 20 seconds. The White light can be seen 20 nautical miles out to sea while the red can been seen 16 nautical miles.
As well as serving as a protector of our oceans the lighthouse now also serves as a mobile phone tower giving phone service to a large stretch of road along the Great Ocean Road.

Now in use as a private residence the original lighthouse keeper's quarters are adjacent to the lighthouse.
There are regular tours of the Split Point Lighthouse which give breath taking views of the Southern Ocean and are given a wonderful history of the lighthouse and its stories and legends. Tours are managed by Eco-Logic Education & Environmental Services based in Anglesea.
[Map Popup name="Split Point Lighthouse" street="Federal Street" location="Airey's Inlet" phone="1800 174 045″ lat="-38.46805993831996″ long="144.1044297097144″]