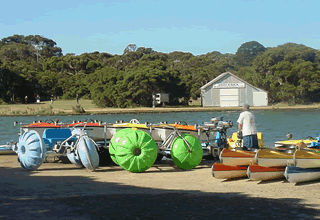 Anglesea is a thriving coastal township and a very popular holiday resort being about a half an hour's drive from either Geelong or the thriving resort town of Lorne on the Great Ocean Road. Anglesea is a blend of the quaint seaside charm of yesteryear, with its old boat houses, bed and breakfasts and laid back lifestyle combined with a vibrant cosmopolitan centre, with cafes, restaurants and boutique shopping.

The bustling village of Anglesea is the gateway to the Great Ocean Road with plenty to do and great facilities. The township has all the things you need in a small town and plenty of dining, cafes along its small shopping strip. People come to Anglesea for the magnificent beaches and the rugged bushland which surrounds the town. …Read more

Over the summer months the Anglesea campgrounds swell multiplying the townships population several times. Anglesea also has a huge range of quality B&Bs, houses and apartments for rent plus backpacker and motel facilities. …Read more

Located between the Australia's surfing capital Torquay and the tranquil Airey's Inlet, Anglesea is in easy reach of all of the Great Ocean Road and is only about half an hour's drive from the centre of Geelong, an ideal location for a day trip or a longer stay. …Read more

Anglesea has a wealth of natural wonders including some of the best bushland in the region. The beaches are renowned as some of Australia's best with firm wide sand and pristine waters. Visitors shouldn't leave without visiting the dozens of Kangaroos at the Anglesea Golf Club or exploring the banks of the Anglesea River. …Read more

Visit our Anglesea Photo gallery and see some of the great things this town has on offer. It's no wonder why it is one of the most popular holiday destinations in Victoria all year round. …Read more

Angliers love Anglesea there is so much choice with the open ocean, the sandy shoreline and the Anglesea River. Popular catches include snapper, barracoutta, flathead, mullet and squid. …Read more
Did you Know

Anglesea is home to the Alcoa Open Cut Mine which uses locally mined coal to generate electricity for their smelter at Point Henry on the eastern shores of Corio Bay. Visitors can view the open cut mine from a visitor area near the powerstation.