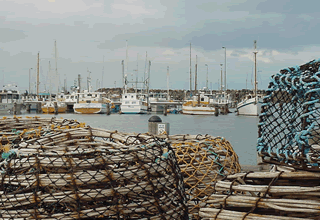 Sitting in the shadows of the Otway Ranges, Apollo Bay is a picturesque holiday and fishing village about 112 km South West of Geelong. Apollo Bay is around the half way point of the Great Ocean Road and the next major town heading South West from Lorne. The town is home to about 1800 people and is situated on the eastern side of Cape Otway, along the edge of the Barham River.

Apollo Bay is located in the foothills of the magnificent Otways on the eastern side of Cape Otway the Victorian south east coast's most southerly point. Apollo Bay has had a long tradition as a forestry and fishing village and it's seafood are some of the best found in Victorian waters with the prized catch being beautiful crayfish. …Read more

There are plenty of choices for accommodation in and around Apollo Bay, whether you want to stay in a campground, apartment, B&B or motel there is something for you. Some people like staying in and around the town close to the sea while others come for the tranquility of the forest and choose a quiet hideaway and relax. …Read more

Apollo Bay is around 120 kilometers south west of Geelong. There are two main ways to get to the township, either along the winding and very scenic Great Ocean Road or through the farmland and forests inland via Birregurra. …Read more

Apollo Bay town has a rich maritime history and there are plenty of nautical attractions and sights around the area. The beautiful Otways with its ferns, tall timber and waterfalls are also a huge draw card and no visit is complete with out a trip out to Cape Otway to see the rugged coastline and historic lighthouse. …Read more

Apollo Bay's photo gallery is simply beautiful, the green of the Otways, the brown of the rugged coast and pristine blue waters make this town one of our more scenic. With the natural beauty like this it is no wonder the Great Ocean Road is on top of the list for many overseas visitors to our country. …Read more

There's probably no better place to try you hand at catching dinner, than at Apollo Bay. The town offers great beach fishing, fishing off the breakwater and of course out in the bay and open ocean. Many of the streams and rivers throughout the Otways also offer great catches. …Read more
Did you Know

The first telegraph line between mainland Australia and Tasmania was laid from Apollo Bay. Today the old Cable Station is a museum where you can see some interesting memorabilia and learn about the things we now take for granted.