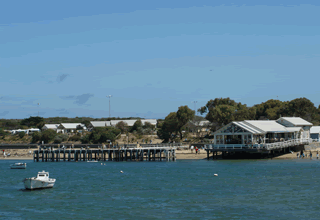 Known as the Village by the Sea, Barwon Heads is one of the Geelong region's premier holiday destinations. Thousands of holiday makers make this lovely seaside town home over the summer months in the expansive campgrounds, boutique accommodation and quality bed & breakfasts.

Once a fairly sleepy fishing village Barwon Heads is now one of the favorite destinations in the Geelong region with great beaches, a trendy café set and easy going lifestyle this town has been rejuvenated and is thriving with life and only 20 minutes from the centre of Geelong. …Read more

Over summer the camping ground explodes with caravans, campers, tents and the like making this town one of the most popular seaside villages in Victoria. The town also boasts some luxury b&B's, guest houses, motels and other lodgings. …Read more

Situated on the mouth of the Barwon River and less than 20 minutes to Geelong, the Surfcoast and the entire Bellarine Peninsula Barwon Heads is the ideal place to base yourself while exploring our region. …Read more

Barwon Heads has plenty of adventure with plenty of watersports, skydiving and good fishing. The township boasts two of the Australia's best golf clubs and some of the region's best beaches. The small township is alive with cafes, restaurants and boutique shopping making this town on of the Geelong region's most loved. …Read more

See some of the beautiful sights of Barwon Heads in our photo gallery and see why people love our "Village by the Sea". Magnificent beaches, a laid back atmosphere and plenty to do for day trippers or Holliday makers. …Read more

Being the mouth of the mighty Barwon River, Barwon Heads offers some diverse and quality fishing. Many deep water reefs are home to schools of snapper, shark, and flathead just right for the dinner table. …Read more
Did you Know

Barwon Heads was the major setting for the popular ABC Television program Seachange, and has helped rejuvenate this town and interest many people in making the seachange, and selling up in the fast city to move to the Barwon Heads area.