Bellarine Peninsula Railway
The Bellarine Peninsula Railway is a popular tourist heritage railway operating across the Bellarine Peninsula from the rural heart of the peninsula Drysdale to the township of Queenscliff.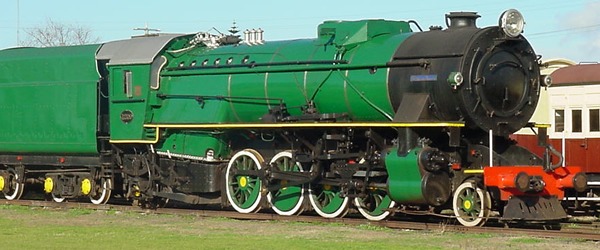 The rail line itself was originally built in 1879 and formed part of the Geelong to Queenscliff line which ceased operation in the 1970's. The Drysdale to Geelong section of the line forms the Bellarine Rail Trail which begins where the Warrnambool line intercepts near the Geelong Showgrounds in East Geelong.
The line was originally built to transfer passengers to the Bellarine Peninsula and goods to Queenscliff's fort and military installation on Swan Island. As a working railway, the lines popularity dropped off during the 1930s. The line later had a short revival during world war two but later returned being used less than few times a month.
In 1976 after it was announced the line was to be shut down, a local group of steam train enthusiasts who had a small railroad located on Belmont Common were able to use the railway brining their small collection of rolling stock to Drysdale.
After nearly 40 years of hard work and preservation the line and stock have been painstakingly restored and many locomotives and carriages have been brought from all over Australia to join the railway.
Queenscliff's station dates back to 1881 and is kept in tip top condition, and a step back to a bygone era, while the replica of the original Drysdale station building has been created with great detail and now contains a small museum with lots of interesting rail artefacts.
As well as regular tourist services on weekends and holidays, The Bellarine Railway operates several unique train rides throughout the year with "The Blues Trains" providing a unique experience for the music lover. Here 200 people hop aboard a four carriage train at Queenscliff station for a 4 hour trip down to Drysdale and return. Each carriage has a different blues band who play the journey, along the way the train makes four stops so passengers can swap carriages and catch another band. It is a great night out and bookings are essential as this is one of the Bellarine Peninsula's most popular events.

Other events during the year include a Thomas the Tank Engine themed weekend which is a huge hit with the young as well as various other special events throughout the summer months.
The Bellarine Peninsula Railway operates on Sundays, Public Holidays, Tuesday and Thursday during School Holidays throughout the year. For the full timetable and fares visit the Bellarine Peninsula Railway website at www.bpr.org.au