Colac History
The Kolijon or Coladjin indigenous people are lived in the Colac region before the European settlers first explored the area in 1837. Many living around the lake which was a great source of food with its abundant fish and bird life.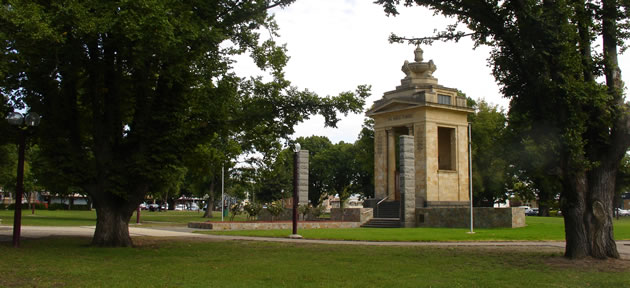 Pastoralists including Hugh Murray who has the town's main street named after him in his honor were the first to settle in the area in the late 1830's. Hugh built the first homestead in 1840 along Barongarook Creek near Lake Colac.
During the 1840's the town began to grow and by 1855 the town was thriving with a hotel, churches, schools and even a bridge over Barongarook Creek. The town had general stores and butcher- just about everything it needed.
One of the worst environmental decisions in Australia's history happened in the 1850s at Winchelsea about half way between Geelong and Colac at a farm called Barwon Park. Thomas Austin released 24 rabbits onto his estate to make it more like England. Although it is believed the First Fleet carried rabbits back in 1778, Austin's rabbits survived. The rabbits did what rabbits do and before long they had infested much of Australia causing soil erosion, and the loss of many native species which had their food supply eaten by these cute but evil vermin. The rabbits were released in 1859 and by 1890 they had spread as far as the Northern Territory and Western Australia, with a bit of help from other misguided people who also let them go.
The railway between Geelong and Colac opened in 1877 further developing the town and narrow gauge lines linked near by Forrest and Beacc for timber movement from the Otways.
After World War One and World War Two many ex toservice men settled into the area with Solider Settlement Schemes operating in the area. Many went on to become farmers and really added to the prosperity of the town and surrounding districts.
During the 1980's Colac was put onto the Australian if not world spotlight with local identity Cliff Young. The nation was in awe with the then 61 year old potato farmer who became an over night celebrity with his long distance running. Cliff with his famous shuffle and sometimes even in gum boots ran and won the 1983 Sydney to Melbourne marathon running a staggering 875 kms. But that was nothing for Cliff, in 1997 at the ripe age of 76 he ran 6520kms around Australia to raise money for charity. Sadly Cliff passed away in 2003 but is still remembered as a superstar in Colac.

Today Colac still prospers with the Dairy, timber, beef and wool industry but many new boutique operations are starting to take off. Gourmet and natural foods from the region are becoming very popular with organic meats, vegetables and cheeses going from strength to strength.