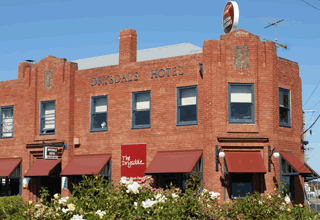 The townships of Drysdale, Clifton Springs and Bellarine are situated in the centre of the Bellarine Peninsula, about 16 kilometers to the east of central Geelong on route to Portarlington.
Over the years Drysdale has become one of Geelong's great rural hubs. Its sandy loam soil was perfect for potato farming and more recently canola crops. The area is also home to beef, horse and some lamb breeders.

Drysdale is in the rural heartland of the Bellarine Peninsula with rolling hills and fresh sea breezes the area produces much of the regions crops and vegetables. Potatoes and canola are popular crops while cattle and wine are other successful fruits from the land. …Read more

Bed and Breakfasts and farm stays are the best way to enjoy the rural life when visiting Drysdale. Being only minutes from Geelong and many of the bustling seaside towns of the Bellarine Peninsula Drysdale is an ideal place to explore the wider region and go back to a quiet and luxurious evening. …Read more

The rural town of Drysdale is situated in the centre of the Bellarine Peninsula within a few minutes reach of all the peninsula's resort towns and only about 20 minutes from the centre of Geelong. …Read more

Drysdale is close to many of the region's best wineries and many offer cellar door sales and tasting. The area boasts great golf courses at Clifton Springs and Curlewis, but the favorite attraction is the Drysdale to Queenscliff historic steam railway. …Read more

The rolling hills around Drysdale with their ploughed fields and cattle overlooking the blue Port Phillip Bay make for beautiful scenes. One look at our Drysdale photo gallery and you will want to experience this tranquil and beautiful piece of the Bellarine Peninsula. …Read more

Drysdale's neighbouring Suburb of Clifton Springs is home to many a good spot to catch some fish for your supper with Flathead and whiting being very popular catches in the surrounding waters. …Read more
Did you Know

The Drysdale Market is one of the more popular markets in the Geelong Region. Held on the third Sunday of the month between September and April on the local recreation reserve and has a wide range of products including many locally grown foods.