Drysdale Highlights
Drysdale has quite a bit for a day tripper or longer stay and being in the centre of the Bellarine Peninsula is an ideal location to base yourself and explore our fantastic region. The town is a nice quiet rural town with good shopping and amenities but there's so much more for the whole family.
The town has a long tradition of farming and working the land, and today although the farming practices and changed and many are trying their hands at new crops and plantations the Drysdale area has some of the best produce, wines and meats found in the state.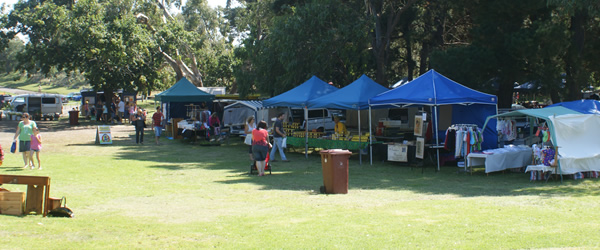 Once potatoes and onions were the main crop but today, wine, canola even blue berries are grown successfully in the area. Livestock is also important with many special breeds of cattle, horses and even llama being raised on the rolling hills around the township.
Favorite wineries include Kilgour Estate which was only established in 1989 but has fast become renowned as one of our best, producing very nice chardonnay, cabernet sauvignon and pinot noir the winery is about 4 km out of town towards Portarlington and offers wine tasting and cellar door sales weekends and some other times throughout the year. Scottsman's Hill Winery is also another award winning wine producer with absolutely delightful chardonnay, cabernet merlot, sauvignon blanc and Riesling. Spray Farm which is also home to the huge "Day on the Green" music festivals is also a great producer of wine. Their 150 year plus old property is also very popular for weddings and other special gatherings.
Drysdale offers plenty for the history and heritage lover, the historic Queenscliff-Drysdale railway is the town's biggest attraction and much loved. This train travels frequently during the weekend, school holidays and busy periods of the year and is a great way to explore the Bellarine Peninsula. There are also regular Blues trains where blues bands play in carriages along the journey. These book out week's in advance so plan well ahead if visiting.
The main street of Drysdale is home to the Historic Society museum, here a wealth of interesting artifacts and information about Drysdale and the Bellarine Peninsula are on display it is well worth a visit. Opposite you will see the beautiful Anglican Church of St James which dates back to 1872 and one of the town's most loved buildings. Another interesting building is the War Veterans Home in Crimela Street which is near the recreation reserve. This house was built in 1871 for infirm servicemen. It was modeled of the Crimean War Veterans Hospital's built in Greenwich and Chelsea outside of London.
Nearby Clifton Springs and Curlewis a few kilometers on the Geelong side of the township are two of the regions favorite golf clubs. Clifton Springs is part of a huge convention centre which has function rooms with some of the best sweeping views of Port Phillip Bay and also has a large gaming facility.

If you are in the Drysdale area on the third Sunday of the month between September and April make sure you visit the Market. It is one of the best in the Geelong region. Held at the Recreation Reserve it has dozens of stalls selling all sorts of produce, art and craft, brick a brack and curiosities. The market attracts thousands of people coming from all over the region to experience the fun