Jan Mitchell's Waterfront Bollards

No visitor can see Geelong's magnificent waterfront precinct without seeing the whimsical bollards stretching from Rippleside to Limeburners Point painted by local artist Jan Mitchell. Sadly Jan is no longer with us but she has left a lasting legacy which will put a smile on just about anyone who comes face to face with these unique and much loved pieces of public art.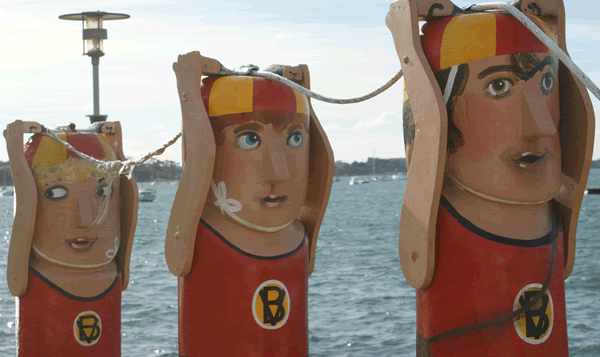 There are over 100 bollards stretching our waterfront and they have been made out of huge wooden pylons, many recovered from the Yarra Street Pier which was destroyed by fire in the 1980's and later removed. The wood was sculptured and then painstakingly hand painted to depict many of the events and history of the Geelong region from the times the local Wautharong People were the only inhabitants right up to modern times.
Many of the bollards are painted as historic people, including many of our founders and even former Premier Jeff Kennett and former Prime Minister of Australia John Howard, who were both in office when the bollards were being designed and installed. Favourites include explorer Mathew Flinders overlooking the bay he discovered in 1802, the historic Geelong Footballer near the old Hi-Lite Park site and the sailor and fluesy near Cunningham Pier. Other tributes to historic moments in Geelong's history include the Speed Trials bollards in Ritchie Boulevard, 1920' s lady swimmers on the sandy foreshore near by and various sea captains and the rustic fisherman at Fisherman's Pier.
The bollards were produced in a huge warehouse in an old wool store on the waterfront, where the new Deakin University school of nursing is located near Cunningham Pier. The program ran from 1999 and took several years to complete and much research went into every detail of their design. The looks, clothing, artifacts and highlights all represent something.
In 2009 the National Wool Museum in Brougham Street featured a exhibition playing tribute to Jan Mitchell, her visions, craftsmanship and magnificent bollard walk. It took visitors on a journey through the thinking behind the bollards, how they were made and how they have captured the imagination of Geelong and really helped give the city it's new identity, which for so long was in the doldrums. The exhibition will be remembered for the making of another bollard, this time sadly with out its origional creator. Jan was also honored in 2006 when she was awarded the Medal of the Order of Australia for her work on transforming the Geelong Waterfront.

The bollards have become an important and very well recognised icon of Geelong over recent years and our local tourist body even has had two installed outside the international terminal at Melbourne Airport to catch peoples attention and prompt them into thinking about coming to Geelong. They are loved photo opportunity for many international visitors, who spread the message of Geelong worldwide with their great digital snaps.
Barwon Heads also features a troop of soldiers which are also painted by Jan Mitchell's. They can be found along Geelong Road near the school crossing. These were painted before the Geelong Bollards were commissioned.