The Ford Discovery Centre (now closed)
NEWS: The Ford Discovery Centre is no longer open, closing for the last time on the 29th of July 2012. This is a historical story to celebrate its 13 years as one of Geelong's premier attractions.  Some of its collection has moved to the Geelong Museum of Motoring and Industry in North Geelong.
Motoring giant Ford started its Australian manufacturing operations close to the Geelong waterfront way back in 1925. Their first facilities were located in a old wool store on the corner of Brougham and Gheringhap Streets; a year or two later Ford moved to their huge plant in North Geelong where they remain today with their engine, stamping, engineering and design facilities.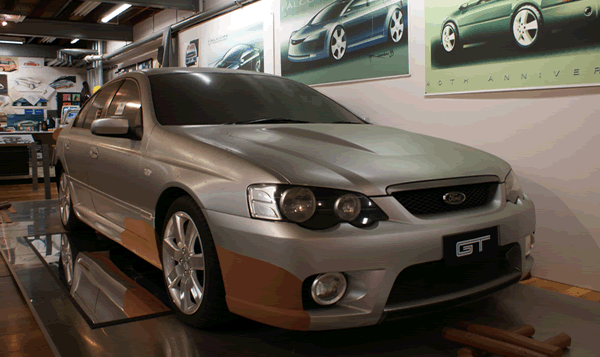 In 1999 The Ford Discovery Centre brought all things Ford back to the city corner; this time just across the road from the original manufacturing site. The centre boasts a huge interactive and informative look at the huge impact Ford has played on the lives and culture of not only Geelong but the entire world.
The Ford Discovery Centre is so much more than just another car museum and much more than just row after row of motor vehicles. The centre is a fun and educational center that is also very popular with school groups and the young, offering a hands on look at one of the pioneering companies which have help build and shape this great city.
The centre traces the history and heritage of Ford and in particular one of Australia's most successful cars, the Ford Falcon. It gives a look behind the scenes at the secret processes and techniques used to design and style a vehicle in the Design Studio mock up. This gives you a unique chance to see actual clay models which were actually used to design vehicles, including a real GT Falcon full size clay model.
There are various engineering displays explaining how safety is so important in vehicles today. You can even come face to face with an actual crash car; used to obtain Australia's first 5 star crash rating with Ford's FG Falcon range. Make sure you meet the crash test dummies, there's a whole family and even a crash test kangaroo which is used to ensure Ford cars meet the unique Australian conditions.
Several full size cutaways of vehicles show what's behind the panels and how things work, and you can easily trace the technologies and development changes from the old vehicles to the brand new models. There are engines, components and a multitude of other displays to explore.
The Ford Discovery Centre offers plenty of interactive things to do including operating a production line. Here visitors can install an actual engine into a real vehicle using authentic machinery and controls. Generate your own energy and power headlights, test your strength or operate the center's robot. Yes the Ford Discovery Centre is home to actual production robots, there's one you can get to do tasks with the press of a button, it is quite amazing.
The centre has a theatre thay is always screening something interesting, you can enjoy the film while relaxing on real car seats; there's just nothing like it.

The ever changing vehicle exhibit has always something interesting, race cars, vintage cars, important cars in history or the latest model, there is quiet an extensive collection. One favorite is the 1934 Ute, the Ute is an Australian invention and was actually invented right here in Geelong by engineer and designer Lew Bandt. Lew's ute is one of the most prized treasures in the Discovery Centre's collection.
Don't forget to bring your pocket money along; because the Ford Discovery Centre has the best Ford gift shop you have ever seen, models, books, posters and some great clothing. You won't want to leave without picking up a few souvenirs.
SAD NEWS: The Ford Discovery Centre is no longer open, closing for the last time on the 29th of July 2012. This is a historical story to celebrate its 13 years as one of Geelong's premier attractions.
HAPPY NEWS: The Geelong Motoring Museum was announced in January of 2014 to open in North Geelong later 2014.  This centre will display some of the items from the Ford Discovery Centre and feature vehicles of all styles and types.   Stay tuned for more details as they come to hand.
FURTHER UPDATE: November 28th 2014 – The Geelong Museum of Motoring and Industry has opened in North Geelong – Read More.
[Map Popup name="Ford Discovery Centre (no longer open)" street="Cnr Brougham and Gheringhap Streets" location="Geelong" phone="" lat="-38.14410082512296″ long="144.3588803496548″]