Geelong Naval and Maritime Museum
Geelong being a port city has a rich naval and maritime history and this history is told in the Geelong Naval and Maritime Museum. The museum is housed in the stables of historic Osborne House in North Geelong, a building that has been integral to some of Geelong's port operations over the years.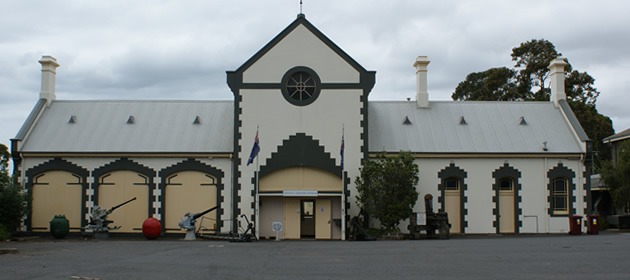 The original section of Osborne House is known as the Muirhead building and was named after Robert Muirhead who built the home in 1858. Muirhead was an early pastoralist who originally came from Scotland, he died on the property in 1862 and the property was sold to several private owners before passing to the Geelong Harbour Trust in 1903.
In 1910 the house was extended and then more renovations were made in 1912 when the Royal Australian Naval College made Osborne House its home. The collage moved to Jervis Bay in 1915 and the building operated as a military hospital for a time during the war years as well as a home for the J Class Submarine of the Royal Australian Navy's submarine service. In 1929 Osborne House reverted to the Harbour Trust's control and was occupied by the Shire of Corio from 1938 until 1941 when it became a training centre for the army during WW2. The Corio shire returned to the house in 1943 and remained there until 1995 when the shire merged with the City of Geelong.

Today the stables at the rear of Osborne House operate as the maritime museum and can be accessed via Swinburne Street in North Geelong. (Swinburne Street runs off Melbourne Road, next to the Vietnam Veterans memorial) The museum is open every day 10am to 4.30pm.
[Map Popup name="Geelong Naval and Maritime Museum" street="Swinburne Street" location="North Geelong" phone="03 5277 3808″ lat="-38.11883632424236″ long="144.3577253411896″]