The Geelong Botanical Gardens

In tranquil Eastern Park to the south east of Eastern Beach lies the magnificent Geelong Botanical Gardens. dating back to 1851 originally over 80 hectares were planned to be the gardens but botanists soon found that the harsh summer weather and sea breezes made it impossible to grow large English style gardens, so they started with a more manageable 2 hectares which has about doubled in the past 160 years.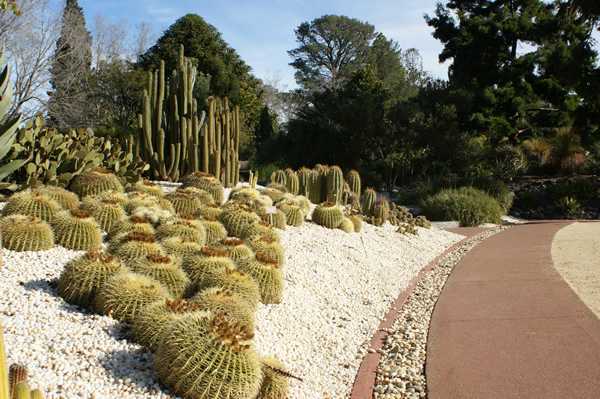 Open daily the gardens are a favourite setting for Weddings and a very popular place for wedding photos amongst the lush and unique plantings. Also throughout the year many performance arts are held with the gardens giving a beautiful backdrop. For people wanting to take their own piece of the gardens home the Friends of the Gardens sell plants and cuttings at various times throughout the year to raise much needed funds for the upkeep. The Friends also offer information and guided tours usually over the weekends.
The brand new entrance to the gardens celebrated the gardens 150th year and feature a ultra modern garden of the future. With drought tolerant plantings and huge steel artworks the scene is quiet breath taking. Using many native plants, some amazing cactus and the rare and very unique bottle trees from Queensland the garden has received accolades from all over the world.
Behind the new garden lies the more traditional garden with magnificent plantings and lush lawns. Some of the treasured plants include the Ginko Biloba which is regarded the finest in Australia. This tree from an ancient family was planted in the gardens in 1859 is the last species of the Ginkoacea still living. Our specimen is starting to show signs of aerial roots, but 160 years is nothing to some found in Asia which are believed to be over 3000 years old.
Another favourite is the Jubaea chilensis or Chilean Wine Palm which stand tall in the gardens. The palm dates back to the original garden plantings but it lived in a glass house for many years. When the glasshouse was removed the botanists kept the magnificent palm.

Some of Geelong's best examples of the magnificent Morton Bay Fig are also found in the garden with their huge trunk system, they are quiet stunning. The Geelong Botanic Gardens is home to 30 trees registered on the National Trust significant tree register. The garden is also home to a huge glasshouse with a very impressive collection of Pelargonium and many exotic tropical plants.
The gardens are home to the beautiful and famous Eastern Beach Cranes. Originally located up the Spanish Staircase at Eastern Beach the cranes were moved after vandalism and a theft. Replica cranes have been replaced at Eastern Beach. Many other magnificent sculptures and pieces of work can be found in the gardens including some beautiful water features and a set of Jan Mitchell's beautiful bollards, an icon for Geelong.
[Map Popup name="Geelong Botanic Gardens" street="Cnr Podbury Cresent and Eastern Park Circuit" location="Geelong" phone="03 5272 4379 " lat="-38.14919213346634″ long="144.3763057992342″]