The Geelong Peace Memorial

The Geelong Peace Memorial in Johnstone Park is one of Geelong's most moving and sacred sites. Built as a memorial to the soldiers who served in World War I, the memorial continued this role with the addition of names of service men and woman who served in every war since the Great War.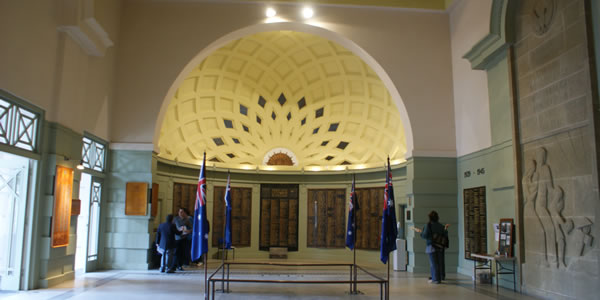 The foundation stone of the building was dedicated in October of 1922 by the Mayor of Geelong at the time, Ald Howard Hitchcock. The building itself is one of Geelong's finest pieces of architecture. Attached to the Geelong Art Gallery and Geelong Town Hall, the powerful Edwardian Baroque styled exterior stand proudly looking over Johnstone Park. The interior of the building is absolutely beautiful with an amazing decorated dome ceiling.
The memorial features the names of approximately 3,500 personnel who enlisted from our region and served in World War 1 or World War II. With the 100th anniversary of World War 1 approaching, there are submissions in place to add the many names of people from our region who are not currently listed. Another great proposal is for school children to visit the memorial and do a research project on one of the names listed. As we draw closer to 2015 more plans and details will be announced.
The memorial plays an important role in the Anzac Day commemorations at Johnstone Park each year with wreath laying ceremonies and special services. Our Johnstone Park ceremonies are one of the largest in the region and attract thousands of people to remember our fallen.

The Peace Memorial is usually open to the public on the first Sunday afternoon of the month where people can inspect the names and pay their respects to our fallen. Former servicemen act as Guides and Custodians of the memorial and are very helpful in protecting the spirit and stories of our war time sacrifices for future generations.