Ryrie Street
Ryrie Street stretches east to west across our city and is the gateway to the Bellarine Peninsula. The eastern end of Ryrie Street is home to much of the city's medical services, with hospitals, chemists, doctors, clinics and surgeries.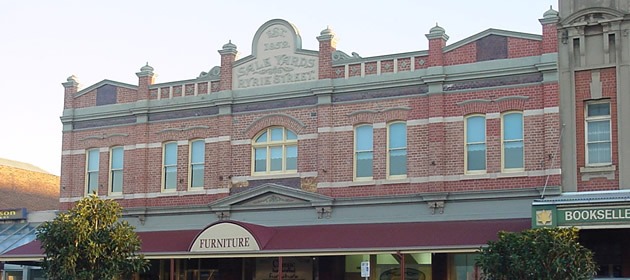 Across from Yarra Street heading easterly Ryrie Street transforms into one of the city's favourite entertainment strips, with cafes, restaurants, pubs and clubs plus the Village Cinema complex.
On the crossroads of Ryrie and Moorabool Streetstowering above the Washington palm trees is one of Geelong's most loved art deco buildings. The T&G building has been telling Geelong the time since the 1930′s with its famous father and son ringing the bell from a platform on the hour.
For those wanting some tasty Asian treats especially Japanese there are several great and very good value cafes either side of Moorabool Street. For lovers of Indian, Geelong has a host of great Indian restaurants and Ryrie Street has some of the best including the Khan Curry Hut.
James Street heads north off Ryrie between Moorabool and Gheringhap streets. James Street and the linked Little Malop Street are home to some of the city's most popular dining and night life establishments. There's Beav's Bar, The Eureka, Opium Bar and a wealth of small cafes, beauty parlours and boutiques.


The historic Ryrie Street Market and former Griffiths Book Store are on the southern side of Ryrie Street just before the Gheringhap Corner. These are two of Geelong's most loved buildings waiting for their next piece of history. Diagonally opposite is the old Geelong Post Office and gateway to the Arts Precinct with the Geelong Performing Arts Centre or GPAC as it is affectionately known a few doors down, home to our thriving theatre. Between the post office and GPAC is the former telegraph station which is one of Geelong's oldest buildings dating back to the 1850′s. The building has recently been restored complete with its time ball on top of the building which was used to notify shipmasters in the bay.
Heading further west Ryrie Street changes name to Aberdeen Street which then becomes the Hamilton Highway, making it one of the major westerly gateways out of the city.