Bannockburn
Bannockburn is just over 20 minutes drive out of central Geelong along the Midland Highway towards Ballarat. The thriving township centre is set off about a kilometre from the highway. The main township was actually started a little further in beside Bruce's Creek but slowly shifted towards the railway where the centre remains today. The town became a popular coach stop between Geelong and the thriving goldfields of Ballarat and beyond during the 1850's and 60's.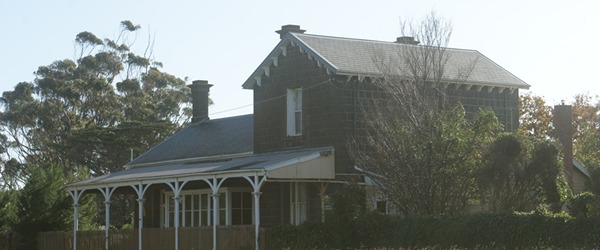 The township is one of the biggest in the Golden Plains area and has plenty of having good amenities like a Woolworths supermarket and mini shopping centre as well as the large Railway Hotel. As the township is only a short trip away from Geelong, many residents commute to work in the greater Geelong region while also enjoying the country lifestyle.
Bannockburn has some notable historic buildings including the charming bluestone Bannockburn Railway Station which dates back to 1863. The bluestone for this station was mined at nearby Lethbridge and is actually designed identical to that of the old Lethbridge and Moorabool stations. On the western side of the township close to Bruce's Creek is the former Somerset Hotel which is now a private residence and dates back to 1854.
The farmlands around Bannockburn are used for cropping, sheep and cattle, its unique terrain produces some of the regions best wine. Some of the vineyards close to Bannockburn include Austins Wines at Russells Bridge, Eagles Rise, Clyde Park and Spence Wines a few km to the south of Bannockburn near Murgheboluc and Bannockburn Vineyards.

Bannockburn is also home to the Golden Plains Farmers Market which is held in High Street on the first Saturday of the month. This market is the perfect place to try some of the regions freshest and tastiest produce from local producers. There are vegetables, wines, baked goods and plenty of gourmet treats, plus entertainment and fun for all. Visit Intown's market section for the next Golden Plains Farmers Market.