Point Addis
Point Addis is a magnificent surf beach between world famous Bells Beach and Anglesea on the Great Ocean Road.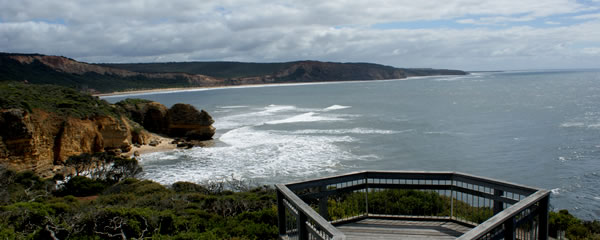 It is a favourite for surfers and sun lovers with beautiful sandy beaches protected by towering red ferruginous sandstone cliffs overlooking the amazing ocean. The surf is just incredible and the beach is a very popular destination over summer and a wonderful destination for a walk on the beach on a wintery day.
There are several walking tracks and great lookouts over the beach and very good access with steps to the beach below the high cliffs. The area features several walking trails through the tea tree, iron bark bushland including the Koorie Cultural Walking Trail which has many interesting notations about Aboriginal heritage in the area. Many say the 7 kilometre beach walk between Bells Beach and Pt Addis is one of the best beach experiences in the world.
The north western or Geelong end of the beach called South Side is designated as one of the few legal optional dress beaches in Victoria and is very popular with nudists during the warmer months.
Point Addis is in the middle of the Point Addis Marine National Park which covers some 4600 hectares of ocean and 10 kilometres of coastline between Jan Juc just south of Torquay and Anglesea. As well as some very important fish, bird and plant life the marine park also has regular visits from Australian Fur Seals, Blue Whales and Southern Right Whale. Diving is a popular sport in the national park with Ingoldsby Reef which can be found offshore, and a bit closer to Anglesea is one of the most popular locations. Ingoldsby Reef was the resting place of the Inverlochy, a three mast baroque ship which was destroyed in 1902. The Hereford a iron clipper wrecked in 1881 was also one of a number of other vessels lost in the now national park.
The bush and farmland around Point Addis are home to several farm stays, bed and breakfasts and cottages which are popular all year round.

Like all our magnificent Great Ocean Road, be very aware of your surrounds, remember the sun can be blistering, and you can get seriously burnt even on an overcast day. Remember the ocean is unforgiving and is very dangerous especially when not protected by the local Surf Live Saving Club. Fire is another thing to be aware of, conditions can change very quickly in this region always be on the lookout for danger.