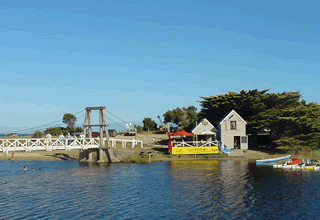 Nestled between the magnificent Otway ranges and Louttit Bay, Lorne is one of Victoria's best known, and most popular resort towns. Lorne is a popular destinations with day trippers from Melbourne and Geelong visiting on weekend drives of the Great Ocean Road and makes for a fantastic holiday spot.
About

Lorne is the premier town of the Great Ocean Road and a very popular destination for daytrippers and holiday makers from Geelong and Melbourne. Lorne Beautiful Beaches, amazing scenery and is right on the doorstep of the ferns and tall timber of the Otways. . …Read more
Places to Stay

Lorne is one of the most popular destinations in the region and offers great choice of accommodation from luxury bed and breakfast, high quality apartments and motels right down to great backpackers and family friendly camping grounds. …Read more
Map

Being only an hour's drive from the centre of Geelong, via the magnificent Great Ocean Road, Lorne is one of Victoria's most popular seaside destinations all year round. …Read more
Attractions

Lorne has something for everyone, whether it be enjoy the beach, hike the nearby Otways and explore the waterfalls or just kick back and relax in one of the cafes, restaurants or Lorne Pub, the choice is yours. …Read more
Photo Gallery

Over 100 years ago the Victorian Government got it right by declaring the Lorne area an area of significant natural beauty. That term still holds fact today with some of the most spectacular sights and views in the region. …Read more
Fishing

Lorne offers so much for the angler, whether it be offshore, from the Lorne Pier, off rocks, the beach or even in the estuaries you are bound to be successful and catch a tasty fish for your dinner. …Read more
Did you Know

Every New Year's some of the world's best bands and thousands of people turn out for the annual Falls Festival. Acts like Blondie, Franz Ferdinand, Iggy Pop, You Am I have all played to adoring crowds.