Lorne Pier
The Lorne Pier is to the south of the city overlooking the majestic Grand Pacific Hotel and Louttit Bay. In addition to being one of Lorne's favourite fishing and recreation spots, the pier has a rich heritage as the townships major port facilities for the timber logging industry and the nearby fishing co-op.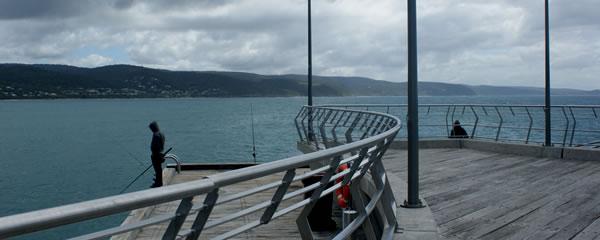 The original pier dated back to 1879 but over the years' time and the sea had taken its toll. In 2006 construction started to build a new pier with modern facilities for both the fisherman and their fishing boats.
Being the same length and width of the old pier, Lorne's new pier opened in March of 2007 and cost five million dollars to construct. The end of the pier offers a wider section and lower platform which are very popular for the dozens of fishermen who fish from the pier each day.
As a reminder of the old pier's rich heritage, a small section of the pier has been preserved next to the new pier and now forms part of a display telling some of the stories and legends of the pier.
The pier is a favourite spot for fishing with great catches regularly reported. Salmon, Barracouta and Trevally are popular catches and there are quite a few tasty squid also caught.
On the foreshore overlooking the Lorne Pier is one of the township's best seafood restaurants, The Lorne Pier Restaurant has some of the freshest seafood you will taste in the region, with a relaxed atmosphere and great views. There is a handy fish market next door where you can take a freshly caught fish or even one of our magnificent crayfish home for dinner.
Visitors to the pier will notice a small blue metal hut like structure; this is a power generator which uses sea waves to generate electricity. It was installed in late 2010 and is being trialled as the first open water unit in Victoria. It is hoped that the testing will lead to larger units being used to generate power from the ocean. The generator has a capacity of 1.5kw that is used to power lighting and other items on the pier.

The Lorne Pier is the starting point of one of the Great Ocean Road's biggest events every January. The annual 1.2 km Pier to Pub swim attracts over 4000 competitors and even more spectators making it the largest open water swim in the world. The event is organised by the Lorne Life Saving Club and is so popular a ballot needs to be run to handle the number of entrants.