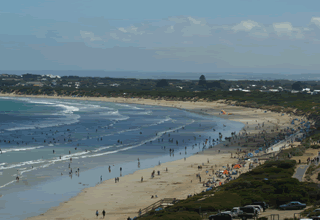 Ocean Grove is the largest town on the Bellarine Peninsula and is home to just over 11000 people. Like many of our seaside towns, Ocean Grove's population swells to much bigger numbers over the summer period when thousands of holiday makers set up their home in the local camping grounds, apartments and holiday houses.

Ocean Grove is the Bellarine Peninsula's biggest town and one of the most popular tourist destinations with thousands spending their summer around the town for the great beaches, amenities and closeness to the hot spots of the region. …Read more

Over summer Ocean Grove swells with thousands of visitors, many staying in the many camping facilities. The town has plenty of motels, hotels, bed and breakfasts and holiday houses for rent making it one of the busiest resort towns in the state. …Read more

Ocean Grove is the most southerly town of the Bellarine Peninsula which finishes at the Barwon River. Ocean Grove is linked to Geelong via Wallington and the Geelong to Queenscliff highway. Geelong and the Surfcoast towns are also accessible across the river and through Barwon Heads. …Read more
Leisure activities are some of Ocean Grove's most popular attractions, with great beaches, walking tracks, a new swimming pool complex and the Bellarine Peninsula's last piece of native bushland. The cosmopolitan shopping strip of the Terrace offers great dining and good shopping all year round. …Read more

Ocean Grove just sells its self with our photo gallery. Beautiful beaches, vibrant retail area and lots of things for daytrippers and holiday makers. Once you have had a taste of the "Grove", you want to come back soon for more. …Read more

The Ocean Grove area offers great fishing, with the estuary system of the Barwon River offering good catches. Surf beach fishing is also popular and many a fisherman has caught a fine dinner out in the open waters through the heads. …Read more
Did you Know

Ocean Grove's beaches are some of the best in Australia, great surf and golden soft sands all protected by high dunes. The beach is a favorite all year round whether it be for surfing, swimming, jogging or lazing in the sun.