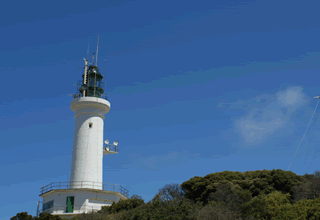 Point Lonsdale at the tip of the Bellarine Peninsula stands guard over the mighty rip at the entrance to Port Philip Bay. Overlooking Point Nepean and the Mornington Peninsula, Point Lonsdale is home to about 2500 people. Like many of our coastal towns, Point Lonsdale's population swells to over 5000 during the summer months, when thousands of holiday makers call the small town their home.

Point Lonsdale sits proudly at the heads of Port Philip Bay overlooking the Mornington Peninsula and Bass Straight. This charming seaside community has great beaches, for both sun seekers and surfing. There is very good fishing and the towns of Queenscliff and Ocean Grove are only minutes away. …Read more

Point Lonsdale has some lovely guest houses, plenty camping spaces and some very comfortable bed and breakfasts. There are several holiday houses and other accommodation to make your stay in this township very pleasant. …Read more

Being only 28km from the centre of Geelong, only an hour and half driver from Melbourne and a short ferry crossing between Sorrento and Queenscliff, Point Lonsdale is an ideal location to stay for a few days while exploring the Bellarine Peninsula, Surf Coast and Great Ocean Road's attractions. …Read more

Point Lonsdale's biggest asset is its natural wonders, beautiful beaches, swimming, surfing and rock pool exploring and fishing are all popular past times, so is relaxing in one of the cosmopolitan cafes overlooking The Rip. …Read more

The beautiful blue waters of Port Philip Bay and Bass Strait offer a beautiful backdrop for this little seaside township. Point Lonsdale is often overshadowed by splendor of nearby Queenscliff but has its own quaint charm. …Read more

Fishing doesn't get any better than this, the waters around Point Lonsdale are one of the best fishing areas in the region. The huge Point Lonsdale Pier is a favorite spot for anglers catching anything from a small whiting to large shark. …Read more
Did you Know

The Point Lonsdale Market held on the first Sunday of every month is a popular destination for many day trippers with plenty of interesting things to buy, including some of the regions best gourmet goods and locally made crafts.