Point Lonsdale Fishing
The waters around Point Phillip Heads and Point Lonsdale are some of the most dangerous waters in the world with strong currents. Therefore extreme caution should be taken when fishing around the heads. But with a lot of water going in and out of the heads, there is also a lot of fish and many good catches are caught in the area.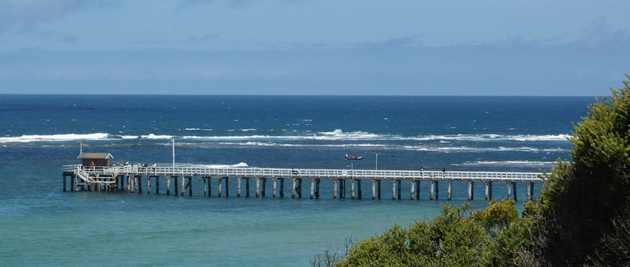 The long Point Lonsdale Pier was once favorite fishing spot, not only were catches of squid, whiting and snapper common, people even caught large sharks with many a bronze whaler being caught of the pier. There are stories of sharks weighing over 250 kilograms being caught off the pier, sure some are urban myths but the record books do show some huge fish, including a 250 kg bronze whaler caught by Bill Athanassiles from Ivanhoe in Melbourne back in March 2008. It took eight men to land the shark on the pier, an amazing catch. Recently the pier has been made part of the part of the Marine Park and no fishing is allowed.
There is good beach fishing to be had in the Point Lonsdale area, especially along the Back Beach south of the township, with salmon and bream. The wide sandy and sometimes windy beaches are a great way to relax and fishing can be quiet rewarding. For those wanting to go out in the deep water with professionals there are several charter businesses running from both Queenscliff and Point Lonsdale which take you to the fishing grounds, and just about guaranteed you of a good catch. As the waters around the heads are regarded as some of the more treacherous in the world this very good option being with experienced people. Fish caught in the deeper waters include several species of shark including Mako, Thresher and Gummy, Kingfish, Snapper, Salmon, large rock flathead, barracoutta and squid.

Fishermen should also be aware of the marine park which includes much of the area around Point Lonsdale. There are several regulations of where and what can be fished, and many areas no fishing at all is allowed including shellfish, crustaceans and fish. Please check with Parks Victoria before fishing to ensure you are aware of the rules and help protect this magnificent fishing spot for generations to come.