Point Lonsdale Lighthouse
Beginning service in March of 1902, the Point Lonsdale Signal Station or Point Lonsdale Lighthouse as it is colonially known overlooks the mighty Rip at Port Phillip Heads. The lighthouse is an important warning system for the nautical traffic entering this treacherous and narrow channel of water. The current lighthouse replaced several other navigational aids including a flagstaff which began operation in 1852 and a wooden lighthouse structure that was relocated to the site in 1863 from Queenscliff's Shortland Bluff. The 1863 wooden structure was cut up and burnt for once the current building was in operation.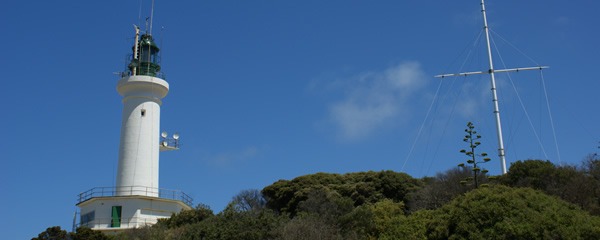 The lamp of the lighthouse was first lit by an oil lamp, this was later replaced by an acetylene lamp. Today, the lighthouse uses an electric light and has been fully automated since 1999. A white horizontal beam flashes every 15 seconds and can be seen around 22 kilometres out to sea, there is also a red beam and it can be seen around 19 kilometres into Bass Straight.
The white tower itself is 21.3 metres high and built of concrete, and is of similar design to many other lighthouses in Australia built around the time. The lower floors of the lighthouse were built in 1951 and take on an octagonal footprint, these floors were built to house the signal station and observation room. There is also a cantilevered platform up the tower which holds special red and green navigation lights.
The lighthouse and the structures around it have been put on the Victorian Heritage Register (VHR) along with the buildings around its base which mainly consist of military structures built during World War I and World War II. One very significant building is the fog horn shed that is located close to the lighthouse, this shed houses boilers which produce steam for the lighthouse's fog horn that is still used during heavy fog.

Today the lighthouse still plays an integral role in shipping movements in and out of Port Phillip Heads and is staffed 24 hours a day to control commercial shipping through the heads. This makes Point Lonsdale a quite unique facility in Australia, now that nearly all other lighthouses are unmanned. For those wanting a closer look at the lighthouse, organised tours of the tower are usually conducted on Sundays by the Queenscliff Maritime Museum. For more information on the Queenscliff Maritime Museum click here.
[Map Popup name="Point Lonsdale Lighthouse" street="Point Lonsdale Road" location="Point Lonsdale" phone="03 5258 3440″ lat="-38.2919861052099″ long="144.6138888861851″]