The 12 Apostles
One of the most recognisable and biggest natural attraction along the Great Ocean Road is the 12 Apostles located in the rugged ocean off the coast of the Port Campbell National Park.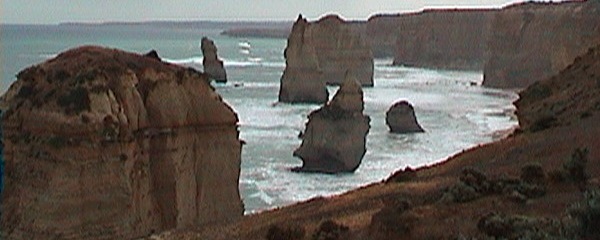 Located between the small townships of Princetown and Peterborough the apostles are in fact limestone stacks which have been battered and eroded by the strong winds of the Southern Ocean for millions of years. There are in fact eight of the stacks remaining, with a 50 metre high stack collapsing into the ocean in September of 2009.
Originally called the Sow and Piglets this iconic natural wonder attracts around two million visitors every year with many being bus trips of overseas visitors especially from Asia who take a day trip from Melbourne to see the Apostles and the Great Ocean Road. Over recent years a visitor centre and some very good walking tracks with amazing viewing platforms have been built to cater for the tourists. Helicopter flights around the apostles are also another very popular attraction. The Apostles are spectacular at any time of the day but they put on an incredible show at dusk and first thing in the morning when the sun reflects of the craters and rough edges.

The Apostles are about a 2 ½ to 3 ½ hours' drive from Geelong depending on traffic conditions being approximately 200 km from the city. There is also an inland route you can take through Colac and Lavers Hill through the Otways. Other notable natural structures on the Great Ocean Road in the vicinity include the London Bridge which collapsed some years back, The Loch Ard Gorge and Gibson's Steps which has an amazing offshore rock stack surrounded by an incredible 70 metre high cliff line. The coast line is quiet spectacular and its no wonder this part of the Great Ocean Road is known as the Shipwreck Coast, the conditions must have been incredibly treacherous with little navigation years ago.