Portarlington Mill
Tucked away in Turner Court in the tranquil seaside township of Portarlington is one of the regions hidden historical treasures; the Portarlington Steam Flour Mill. This magnificent four story sandstone building dates back to August of 1857 and is noted as one of the few remaining historic flour mills in Victoria. Classified by the National Trust, the sandstone was carved from the nearby sea cliffs and was designed by architect Andrew McWilliams.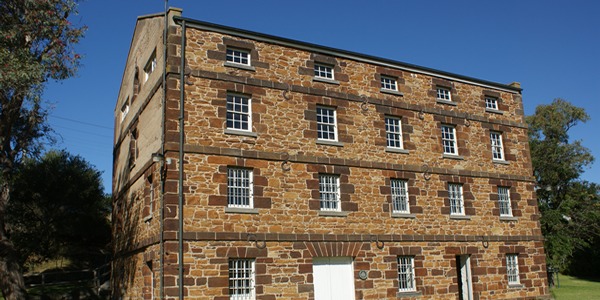 The mill was used to make flour from crops grown throughout the Bellarine Peninsula in what was a booming business due to the huge number of people coming to Victoria around this time joining the Gold Rush. The nearby port provided easy access to ship flour out of the township. The mill was in-fact the second mill to open on the Bellarine, an earlier mill opened a few years earlier in Drysdale, unfortunately this mill burnt to the ground in 1861.
The Portarlington mill site consisted of the mill building as we still have today plus a brick house, store and four small weatherboard cottages. The mill also had a boiler house which is also no longer part of today's structures. The mill hit its peak during the 1860's as it processed more and more grain from all around the Geelong region, taking on the work that the former Drysdale mill once did. However business soon slowed up for the mill once grain crops were established in central Victoria.
The building ceased being a mill in 1874 and over the years has had a variety of purposes including a brick maker and even a fertiliser business which processed seaweed into fertiliser. The mill was also a holiday camp for the Gordon Institute during the 1920's, 30's and 40's. The then Shire of Bellarine purchased the building in 1970 and later transferred it to the National Trust of Australia in 1977 who has cared for the building ever since.
Today the mill is one of the region's more interesting historic properties and is open to the public with the help of countless dedicated volunteers. At the time of writing the mill is open to the public on Saturday and Sunday afternoons from the second weekend of September to the end of May, and on other special occasions the mill is also popular for weddings and other gatherings.

The mill's interior features a trove of interesting artefacts, many dating back to the time of the mill. There are displays on how the flour was produced, some amazing and interesting photographs of the mill and Portarlington in the 19th century which are fascinating. The mill also feature's quite a bit of heritage from the Portarlington port, including many pieces of memorabilia from the historic steamship the Edina which brought so many day trippers and holiday makers to Portarlington before her last voyage in 1938.
[Map Popup name="Portarlington Mill" street="Turner Court" location="Portarlington" phone="03 5259 2804″ lat="-38.11371646912611″ long="144.6475904467773″]