Fort Queenscliff
Fort Queenscliff is a historic fort located on Shortlands bluff, Queenscliff and overlooks the entrance to Port Philip Bay. The fort was built to protect the bay from foreign army's as there was much fear that the bay would come under attack, especially in the wake of the Crimean War, due to its week defences.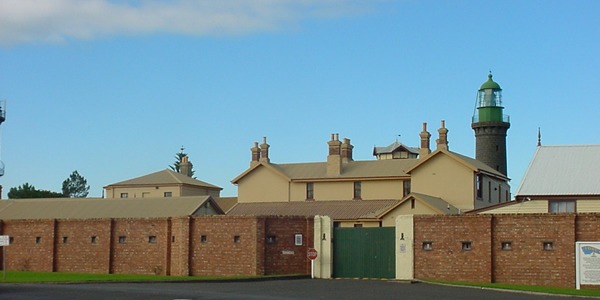 The first stage of development started around 1860 with construct of a sandstone wall on top of the bluff, a battery was later constructed behind this wall in 1864 signifying the first permanent defences to be placed on the bluff. Continual development of the fort progressed during the later half of the 1800's until 1890. Due to its size, location and access to the telegraph station the fort became the headquarters of all of Port Philip Bays defences.
By 1946 the fort was considered to be no longer needed as a defence post but was soon put to use as the Australian army's staff training collage. The forts military role changed again in 2001 when the collage moved out and was replaced by the Soldier Career Management Agency. A museum opened at the fort in 1983 and since then much work has been done at the fort to restore the old guns, magazines and buildings that made up the forts original defences.
Apart from a defence installation the fort has seen other uses over the years, the lighthouse known as the black lighthouse is built on the fort's grounds as is a signal station that was used to contact ships entering the bay. A small soft drink factory was also set up in the fort to keep the soldiers happy on fizzy drinks rather than beer or spirits, its doubtful that this venture was all that successful in its mission, but the bottles produced by this facility are collectors items today.

Today Fort Queenscliff is classified by the National Trust and its huge red brick walls have become a much loved part of Queenscliff's historic architecture. Tours of the fort are held on weekends and School & Public Holidays at 1.00pm & 3.00pm, Additional tours at 11.00am are also ran during September and December to January school holidays. Fort Queenscliff is located in King Street between the RSL club and Citizens Park on the Queenscliff foreshore.
[Map Popup name="Fort Queenscliff" street="King Street" location="Queenscliff" phone="03 5258 1488″ lat="-38.27197063870814″ long="144.6598355320406″]